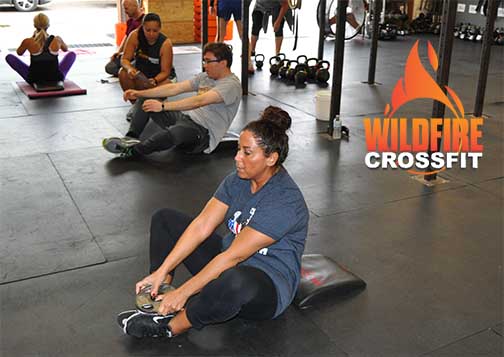 Stay on point this Holiday Season with WildFire CrossFit

The Holidays are now in full swing and for the next 50 Days or so, life can get a little crazy.
Parties, Family gatherings, shopping, decorating, travel, airport runs, house cleaning, and cooking, are just a few of the things we get to add into our already busy lives.
It's easy to make excuses, and they are all important. It's a lot more challenging to stay on point during this time of year and we are here to help you take on that challenge.
Sure, during the holiday season there are going to be a few days with more limited schedules, however, at WildFire, the only day we are closed is Christmas Day, and even then, we are going to have a special At Home workout for you to do. And it will be something you can do with the whole family too.
I get it, there still may be some days when you aren't able to make it into the gym. From traveling to having family come to visit, everyone is busier during this time of year, so make the time, even if it's doing something for 15-30 minutes from home.
You don't need a bunch of equipment to get a great workout in. Sure, it's a lot more fun being able to get in the gym to workout with your favorite community, however, just keeping your fitness going is even more important.
Don't worry, we've got your back!!
From now until after the New Year, we are going to program "No Equipment" workouts for you to do in Beyond the Whiteboard, 5 days a week.
These are going to be bodyweight workouts you will be able to do from anywhere. If you have equipment or a good place to run, you can modify the workouts to include additional elements.
To access these workouts, be sure to subscribe to the "WildFire Fitness" Track in Beyond the Whiteboard, by clicking on the orange BTWB logo in the upper LEFT corner, going to "Account Option" at the bottom of the page, and then clicking: "Follow Tracks" and then choosing: "WFC Fitness".
If you still aren't set up on Beyond the Whiteboard, just go to: www.btwb.com/signup and enter your information. Enter: WildFire CrossFit as your affiliate and use code: WILD421 to complete your set up.
In addition, as always, our Coaching Team is here to help. If you know you need a little extra encouragement this time of year, talk to a coach. Let us know you want help staying on track and we will be happy to add a little extra accountability to keep you on point over the busiest time of year.
And remember, if you have friends and family in town over the holidays, they are always welcome to join you as a guest in any of the classes we offer, even if they don't have any CrossFit experience.
Stay tuned for more great stuff to keep you on point this holiday season, and as always, have Happy Holidays with your WildFire Family!
Oh, and be sure to attend the WildFire Holiday Party on Saturday, December 15th at 6pm at Casey Jones Bar and Grill just East of Cave Creek on Bell Rd.