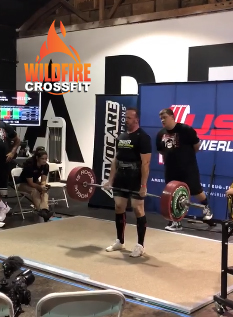 According to Google, "A goal is an idea of the future or desired result that a person or a group of people envisions, plans and commits to achieve."
Goals help us stay focused on the future and they give us purpose. Some goals are more general, such as getting in shape and feeling better. In that case, just showing up and working out consistently will help you reach your goals and the only way to fail is to quit.
Google goes on to explain that "People endeavor to reach goals within a finite time by setting deadlines." Setting a specific date or deadline takes additional work, sacrifice, and even discipline because you have to be ready when the time comes.
We are very proud of Coach Chris Kern for setting a goal of participating in a Power Lifting Competition and working hard to get there. He set a goal and then took massive action to succeed. Great job Coach Kern! Thanks for being such an inspiration and for leading by example by setting and then working hard to achieve your goals.
Not only did he achieve his goal, he crushed it lifting over 1200 pounds in his combined 3 lifts. His Back Squat final lift was 430#, his Bench Press final lift was 237#, and he now owns the leaderboard at WildFire with a Deadlift of 551#! It was enough to take home the Gold Medal in his weight class.
Coach Kern has been working hard on both his fitness and nutrition over the last few months and the results speak for themselves. In addition to the work he has put in during class at WildFire, he has been following a specific strength program in his home gym. He has also been doing great working with the WildFire Nutrition program. In addition to putting up big numbers in Sunday's Power Lifting meet, he has lost over 10 lbs. working with Coach Tiffany. I know she is thrilled with his success.
Coach Kern has always dedicated himself to learning all he can about fitness. From the time he got his Level 1 Certification with CrossFit HQ, he has followed that up with other certs such as Endurance and Powerlifting (go figure). He has been the driving force behind the Endurance program too. He is awesome at programming class as well as teaching the form and technique required to be proficient at Endurance activities such as running and rowing.
That's why he is the perfect person to teach the Rowing Clinic at WildFire CrossFit this Saturday at 7:30am. And, since it is a free event with a limited number of spots available, be sure to sign up right away so you don't miss out.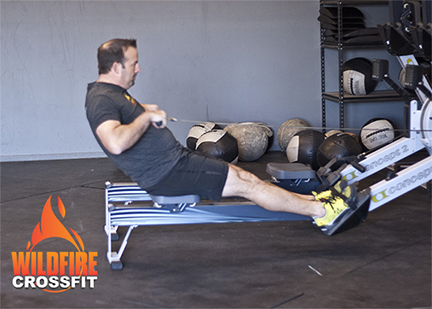 There is quite a bit of form and technique required to row efficiently. During the row clinic, you will not only get to learn form, you will also develop muscle memory by doing drills that will really help you lock it in. Plus, since the work we do on the rower and the work we do with a barbell are so closely related, it will help you become a better lifter as well.
When you are rowing, first you use your legs, then your core, and then your arms. Just like in a lift. If we could simply eliminate the fault of bending your arms too early in a lift, we will see weights go up dramatically. This is one of many benefits of attending the rowing clinic. Getting faster on the rower, increasing your endurance, and becoming a more well-rounded athlete are just a few others.
So, come get a chance to learn from the best. This Saturday at WildFire CrossFit. And when you get there, take a minute to congratulate Coach Kern on all his hard work. He definitely deserves it!