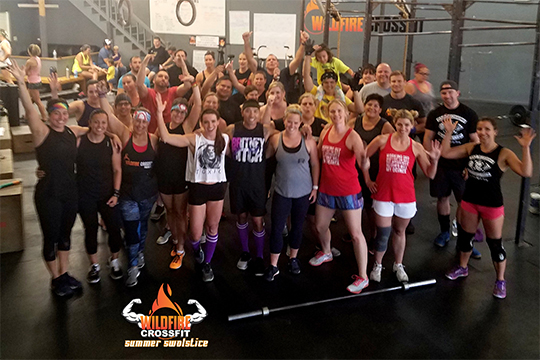 In life, you are going to have good days and bad days. Sure, we would love it if it was always sunshine and rainbows, it just doesn't work that way. As the song says, "you can't have a rainbow without a little rain". It's how you handle those bad days that really define who you are.
The same can be said for your workouts, there are going to be good days and bad. In fact, often at the beginning of an athlete's fitness journey, there are more bad days than good. Your muscles are sore, you are tired, and it takes time to learn the exercises and routines. Don't worry, it gets better.
After a while, your lungs expand, your muscles tighten, and you start remembering the difference between a clean and a snatch. You feel better, stronger, and more confident, and then it starts to get fun.
Still, some days, you might not feel your best. The PRs don't come as easy, an exercise you have been doing well on just doesn't feel right, or you just feel like you are moving in mud. It's okay to admit, we've all had them. It's easy to get frustrated and down on yourself, however, that's not going to do you any good.
On these days remember how lucky you are that you GET to work out. That you are heathy enough and have the time and resources to be able to exercise. It may not feel as good as being able to ring that bell and collect the cheers and high 5's, however, it's still better than not having the ability to work out.
Just by showing up, you are helping to inspire others who might be feeling the same way. You have a community behind you who want to see you succeed and when you cheer on others you will feel better too.
You may have some physical limitations that come up. It could be as simple as being tired from staying up too late writing a blog (cough) or being sore from a previous workout. Or, it could be more serious like a recurring injury acting up that limits what you can do.
Again, if you are physically able, it's still a great day when you can get a sweat going. Now, in the simpler cases like being tired or sore, just be smart about what you do and remember, you don't always have to go RX (as prescribed). In the case of injury, especially a recurring one, be sure to talk with a coach to get the right modifications to be safe and reduce the risk of further injury.
Last Friday was a great example of this. After a very tough week of programming, we had an equally as challenging day on Friday. There were a few athletes who were more than just a little sore and/or nursing an injury. It would have been easy for them to drive straight past the gym to the nearest happy hour. Instead, they came in, let a coach know what was going on, and they were able to get modifications that would still give them the workout that they needed.
While I am not going to mention names, I am very proud of these athletes and their work ethic and love the example they set for the WildFire Community. Their fitness has evolved past the point of just the health benefits, it is a way of life, and it just feels better to live life to its fullest.
One of the things that I love about the WildFire Community is that everyone's goals are important, and nobody is going to judge you for being smart and doing the workout that is right for you. And, when you are having a tough day, you have the support of everyone around you.
So, the next time you are struggling, remember that your community is there for you to cheer you on, to help modify accordingly, and even to challenge you to do more. And when you are feeling your best, you get to be there for others, to be the role model and example to follow.
That's what keeps this WildFire burning! Now, go make it a GREAT day!!