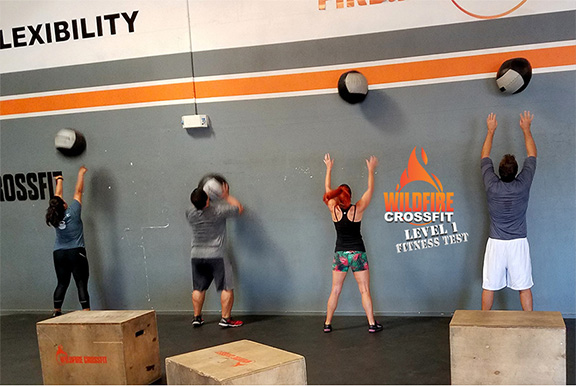 What is the point of the Level 1 Fitness Test at WildFire CrossFit? I'm glad you asked. The main point is to be able to have a goal to shoot for. To be able to complete each portion while hitting the points of performance for each exercise will take hard work and dedication. Whether you are brand new to CrossFit, or have been an athlete for years, these are some basic skills and benchmarks that you should be able to complete while meeting the required standards. Even if you fall short of reaching your goal of getting your Level 1 Black Band, you will have something to work towards which will help make you stronger, faster, and all around better.
Gauging your progress and narrowing your focus is another reason we have the Level Tests. In CrossFit, we do a lot of different exercises and learning new things is great. It also makes it challenging to master everything. You may want to do extra work outside of class, but where do you start?
The Level 1 Test will give you specific exercises to work on. And the best part is, when you get better the exercises in the Level 1 Test, this will also improve your performance in other exercises such as Muscle Ups, Toes To Bar, and Handstand Push Ups.
The Level 1 Test helps you set and achieve a goal. From this is a sense of pride in accomplishing something as well as cheering others on who have the same goal. It feels great. And even if you fall short, you went for it. In life, that's a lot more than most people can say.
As a coach there is nothing like seeing someone reach their goals and get their Black Band. ESPECIALLY when they knew it was something they couldn't do not too long ago. Pride and comradery are some of the things I love best about the Level 1 Test.
Finally, it is a pre-requisite to being able to get your Level 2 Band which will be coming in December. The Level 2 Fitness Test will be heavier, harder, and will push you to really dig deep and get the most out of your training.
Make sure you take advantage of this opportunity to participate in the Level 1 Test, Saturday, October 13th at WildFire CrossFit. If you already have your Black Band, come and help judge and cheer on your fellow WildFire CrossFit athlete to success! And, if you haven't done the Level 1 Test in a while, it's a hell of a workout and you are always welcome to do it again!
Level 1 Test at WildFire CrossFit
30x KB Swing in 90 sec
Starting with the Kettlebell on the ground you will have 90 seconds to bring the kettlebell from below your waist to above your head with your arms locked and straight and your hips fully open.
Handstand Hold – 80 sec
You must get upside-down with your arms locked out, your back to the wall, and your heels touching the wall for 80 seconds in a row.
60x Sit Ups in 2 min
Using an ab mat you must start with your shoulders touching the ground and your legs in the butterfly position. You must sit up bringing your elbows past your knees each time and touch your shoulders to the ground each time.
85x Air Squats in 2 min
From a standing position with your hips fully locked out you must squat, getting your hips below parallel (hip crease below your knee). You MAY use a medicine ball to squat to each time.
40x Push Ups in 90 sec
Starting with your chest on the ground you must push up and completely lock out your arms. When you return your hands to the ground you must lift them off the ground before your next rep.
20x Double Unders
You will have 3 minutes (including any warm up you need) to complete 20 consecutive double unders. You may do as many singles in a row between double unders, however, you must keep the rope moving over your head and under your feet.
15x Front Squats & 15x Push Press Unbroken 75#/55#
With a barbell in the front rack position you must complete 15 front squats, getting your hip crease below the knee and locking your hips out at the top and then 15 push press, lifting the bar from the rack position to overhead with your arms completely locked out at the top. You must complete both of these exercises without putting the bar on the ground.
400M Run in 1:45/2:00
This one is simple. Starting from the corner of the building you must run around the cul-de-sac and back in the specified time.
WOD: 8 Min Time cap to Complete:
15x – 12x – 9x
Wall Balls (20#/14) – Box Jumps (24"/20") – Burpees