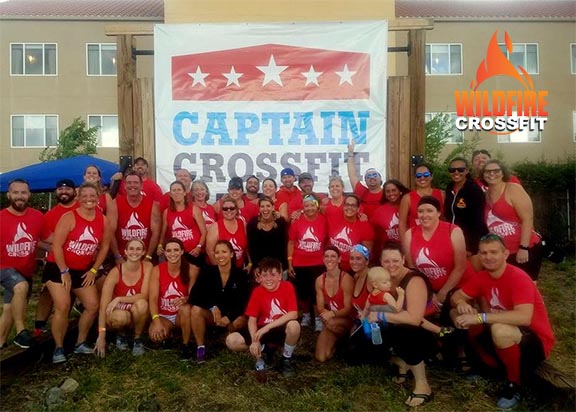 We rolled into Prescott around 6:30pm on Friday night and headed straight to Captain CrossFit. The 2018 Hotshots Memorial workout was in the morning and we needed to get checked in and drop off the tent, so we had plenty of space for the large crew we were expecting.
As we walked inside, the gym looked even bigger than usual without all the crowds and with all the equipment moved out in preparation for the hundreds of people who would be participating in the workout. We were greeted by the extremely friendly staff at Captain CrossFit, one of whom Tiffany went to High School with. They had been working hard all day to get the gym ready for a huge event, and even with a lot of help from the community, both from Captain and the City of Prescott itself, the Hotshots memorial is a huge undertaking.
Still, they took the time to welcome us in and chat about the upcoming workout. They were excited for a great turnout from the WildFire Crew as we are known for bringing the fire to this event especially. In addition to the 50+ athletes and spectators we were expecting, there would be hundreds of athletes, from all over Arizona, participating. Our guess is that there were approximately 60 people in each heat. There is an area out front where all the Rx athletes perform the workout, outside, around a pull up rig. The Scaled athletes take their stage inside where they are welcome to modify the workout according to their fitness level.
You see, that's one of the things I love about this event: All athletes are encouraged and welcomed to participate. It's not a competition against anyone but yourself. For some, it's about beating a previous time, for others, it's about finishing the workout, and still others know it's going to be a 45 minute workout, and they just want to get as far as they can in that time.
The Hotshots Memorial Workout is:
6 Rounds of
30 Air Squats
19 Power Cleans 135/95
7 Strict Pull Ups
400M Run
There was a lot of significance to the rounds and rep scheme of this workout. First, 6/30 (the Rounds and the number of Air Squats) was the day of the Granite Mountain tragedy. The 19 (number of Power Cleans) was the number of Hothots who died in the line of duty, protecting their community. They belonged to Station 7 (number of Strict Pull Ups) and trained at Captain CrossFit which is just 400M away (the length of the run).
It seems like every year, there is something memorable about the day itself. The first year it was overcast and unseasonably cool, which was great for the event. The next year it was extremely warm, and a brutal workout for the afternoon heats, which Tiff and I were in. The next year, there was a fire at a house nearby, raining suit down on the athletes and spectators and making it tough to breathe for a couple heats. Last year, we unfortunately missed the event, so I'm not sure what the day brought. This year, we will always remember the storm and one of the loudest cracks od thunder any of us have ever witnessed.
We got to Captain CrossFit around 7:30am on Saturday morning and the WildFire Crew was already busy getting our spacious tent area set up. While the first heat began at 8, we didn't have anyone participating until 9am. It was great to see the Veteran Hotshots attendees from WildFire taking some of the Hotshot Rookies under their wing and the crew from Captain did a great job showing them where to go and what to do.
At 8:50, the first heat of WildFire athletes made their way onto the floor to get ready to go. It was great to see so many red shirts out there. They had plenty of time to get set up with the right weight and option for pull ups, and almost too much time to think about what was to come in the grueling Hotshots workout. There's a saying in CrossFit that goes something like, "if your workout doesn't scare you, you probably aren't doing it right". Just a couple of minutes before the start, that familiar look of panic was setting in, soon to be replaced by looks of determination thanks to words of encouragement by fellow WildFire members.
When the MC began announcing all the gyms represented in this heat, the loudest cheers of all came from the WildFire tent area. The sky was clear, and it was starting to get warm. By the time they said "Go", the athletes were ready, and began working through the 336 reps and 1.5 miles that stood between them and completing this workout. As usual, the WildFire crew had plenty of support both from their fellow athletes participating and additional members who made the trip just to cheer them on.
When the 45-min time cap was reached, some had finished, some hadn't, and every single one of them gave every ounce of effort towards this workout and had a blast doing it. It's workouts like these that really build character and these guys, deservedly so, were standing taller when this one was finished. They could now enjoy the rest of the day cheering, shopping, and visiting the food and drink booths available once their workout was complete.
Our heat was next, and we had spent the last 20 minutes warming up inside. We made our way outside to the Rx area to find our places. The sun was still shining brightly, and it was even warmer than before, although a thick layer of clouds was creeping up on the horizon. I felt that familiar mix of nervousness and excitement as I chalked up my hands, took a final sip of water and high-5'd and fist bumped the WildFire athletes who were in my heat, getting ready for the workout to begin.
Once the MC said "GO", the scene quickly changed from laughing and joking about what the next 45-minutes would bring to a frenzy of air squats and bouncing barbells.
By the end of the 2nd round, I was happy with my pace and feeling pretty good. The end of the 3rd round was a different story and as the sun beat down, I started to feel like the heat was winning. Then, like magic, the clouds rolled over the sun and cooled everything down. I was able to stay on pace and complete the workout a few minutes under the cap.
It was good to be done and to be able to celebrate a great workout, and a great event, for a great cause with so many of my favorite people. We only had one more heat of WildFire athletes to go, and then, we could sit back and relax, and watch the 12pm Memorial Heat…or so we thought.
By the time the 11am heat was finished, the skies had grown a lot darker. They event staff made an announcement that the next heat would be postponed due to severe weather coming in, and they began moving the equipment inside. We figured we had plenty of time to take a quick group picture and began gathering the troops in front of the Captain CrossFit banner out front. As we scrambled to get everyone together before it started pouring, there was a burst of lightning, immediately followed by a crack of lightening that would wake the dead. They say a picture is worth a thousand words, and then some, as the moment was captured beautifully with the facial expressions telling it all.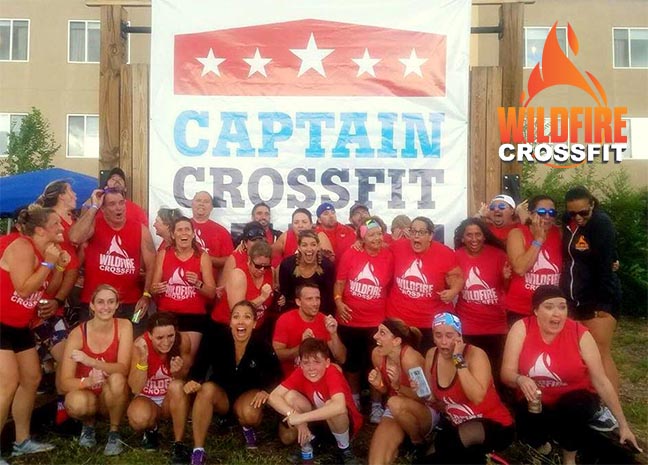 We did manage to safely take the picture and make it inside just before the skies opened and poured rain to go along with the thunder and lightning. Glad to be safe from the storm, we gathered together, discussing round by round how the workout went for each of us, congratulating each other for what we accomplished.
The Memorial Ceremony presented by the Color Guard was a great finale to this incredible event as it brought us together and reminded us why we were here. Even being in a gym as big as Captain CrossFit, somehow it was even more special being packed in there with all the athletes, spectators, and volunteers, instead of spread around outside, if the weather had cooperated.
We got to remember why we were there, to honor the 19 Granite Mountain Hotshots who courageously made the ultimate sacrifice in the line of duty. We got to celebrate and encourage each other for taking on this challenging workout and each succeeding in our own right. We got to be together, not only with the WildFire Community who brought the fire to another great Hotshots event, but with the greater CrossFit Community that can accomplish incredible things when we all work together.
When it was all said and done, we headed over to Gurley Street Grill where we took over the back room for food, drinks, a lot more talk about the day's workout and event, and a lot of fun. It was a great event and a great weekend.
Thank you to everyone who mad the trip up to Prescott. It really means a lot to be recognized for so many people coming up to participate and representing the best of what WildFire CrossFit is all about.
We can't wait to see what kind of fun we will experience next year!