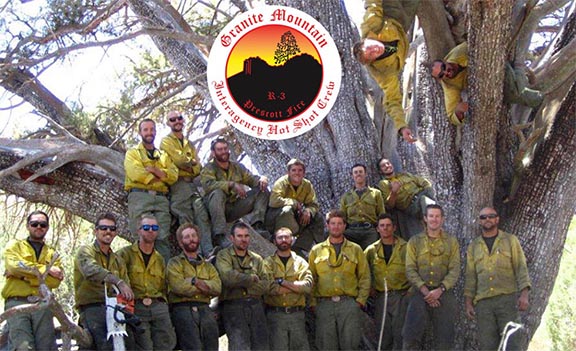 This weekend is Hotshots!! That means, we get to take a little road trip North, where cooler weather, friendly people, a little less air, and an absolutely incredible CrossFit event awaits.
The 2018 Hotshots Event at Captain CrossFit in Prescott, AZ (Tiff's home town BTW) is unlike most other CrossFit events. There are no judges, no leaderboards, and it's not even a competition. It's about community and it gives us a chance to come together to remember the 19 Granite Mountain Hotshots who sacrificed their lives protecting their community in the Yarnell Hill fire 5 years ago.
In light of CrossFit Founder, Greg Glassman's statements about the upcoming changes to the CrossFit Games, THIS is more what CrossFit is about. Coming together to celebrate fitness, health, and community, and making sure everyone has an opportunity to participate.
At WildFire CrossFit, we have always embraced the fact that everyone deserves great fitness, incredible coaching, and community support. This is what makes CrossFit so special.
This weekend at the annual Hotshots event, every athlete will get to participate by modifying the workout according to their level of fitness. Sure, the workout is still challenging, and Yes, we want our athletes to do their very best. The beauty is that we get to celebrate everyone's success and everyone goes home a winner, whether they are doing the workout or cheering each other on. It's about being there together to honor fitness and to remember the Granite Mountain Hotshots.
Plus, it's a hell of a lot of fun! So, if you are on the fence about making the drive, or you aren't sure if you want to just go up to watch, I promise you that it's an event you don't want to miss. It's easy to say, "there's always next year". Unfortunately, you never know.
So, make the trip, take the drive, and come help us celebrate the CrossFit Community and give the 19 brave men who lost their lives and the surviving member of the crew the honor, memorial, and celebration they deserve.
Thank you, Captain CrossFit, for continuing to host this incredible event!
The Hotshots WOD:
6 Rounds for Time of:
30 Air Squats
19 Power Cleans 135/95
7 Strict Pull Ups
400 M Run

-45 Min Cap
Photo above, courtesy of: Granite Mountain Hotshots Memorial State Park Website
Granite Mountain Hotshots

Andrew Ashcraft

John Percin Jr.

Robert Caldwell

Anthony Rose

Travis Carter

Jesse Steed

Dustin DeFord

Joe Thurston

Christopher MacKenzie

Travis Turbyfill

Eric Marsh

William Warnke

Grant McKee

Clayton Whitted

Sean Misner

Kevin Woyjeck

Scott Norris

Garret Zuppiger

Wade Parker

Brendan McDonough -

Surviving member