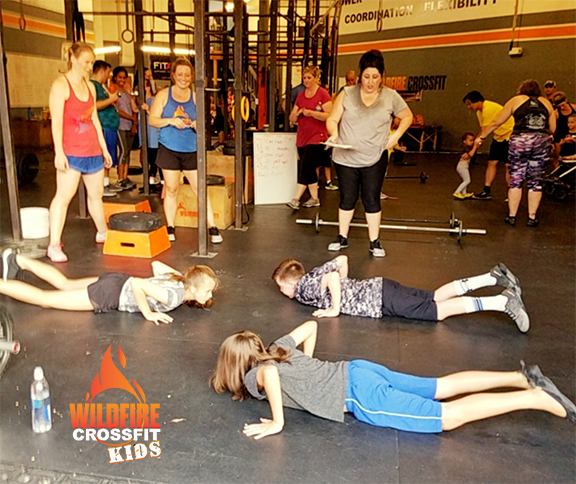 One of the things that I love about our affiliation with CrossFit is the drive and motivation to strengthen more than just the communities within our gyms. When Greg Glassman started CrossFit, in a search for a way to simulate a ring routine, who knew it would lead to inspire something that has changed the lives of millions and continues to be a force for good.
We are excited to be a part of the "Saved by the Barbell" event this Labor Day, another awesome event brought to us by CrossFit HQ and the CrossFit Foundation that gives us a chance to do some good.
We get to be a part of the solution in so many ways. This is what it's all about. According to CrossFit.com, "Saved by the Barbell is an annual, world-wide CrossFit community Labor Day workout and fundraising effort to bring CrossFit to more kids everywhere. Each year, rates of chronic diseases like type-2 diabetes, obesity, and liver disease – conditions once associated with the sick and elderly – rise among children, from toddler to teenager."
We love being able to offer and are very proud of our CrossFit Kids program at WildFire and I believe it is important to promote it to more kids around the world. It's hard to argue with the facts about diseases being on the rise, plus, depression and anxiety in kids is also at an all time high. We are able to give kids and teenagers (I know, kids, they just don't like to be called that), a positive outlet that builds both their bodies and their minds.
The picture above is from our "Summer Swolestice" event last month at WildFire CrossFit. CrossFit Dad, Don Wong, led the charge by doing the first event with his daughter who is in the CrossFit Kids program. She continued into the individual event in June and was on one of the two teams of kids who participated in the final event in July. It was really awesome to watch!
Coach Shannon is right there coaching the kids. She is an incredible coach and a perfect fit to carry on and continue to grow the incredible program Coach Erin built.
Here's a description of the event from CrossFit HQ that we will be hosting at WildFire CrossFit this Labor Day weekend:
"Join CrossFit HQ and the CrossFit Foundation on [Saturday,] September 1, 2018 to help build the life-saving culture of CrossFit for Kids in our schools, our parks, our neighborhoods, our communities. With your help, we can put the kids who need it most on a path to life-long health. That's what Saved by the Barbell is all about.
Proceeds from the workout will support the development and growth of CrossFit programs for kids in schools, recreation centers, and communities everywhere. Your efforts will fund training for teachers, put new equipment in schools, and support the health and fitness of thousands of children.
Registration is $35 and includes a t-shirt and access to the Saved by the Barbell leaderboard.
The CrossFit Foundation has partnered with CrossFit BTWB to host the CrossFit For Kids: Saved by the Barbell worldwide leaderboard. The leaderboard will go live on September 1, 2018."
So, on Saturday, September 1st, at WildFire CrossFit, we will be doing this workout during our CrossFit Kids class at 8am and our CrossFit Friends and Family class at 9am. Join us for a chance to inspire more good in the world to raise money to make that goof happen!


CLICK HERE TO REGISTER or go to: https://crossfit.com/foundation/crossfitforkids


Saturday, Seotember 1st 2018
WOD: "Saved by the Barbell"
3 rounds for max reps of:
1 minute of burpees
1 minute of wall-ball shots
1 minute of deadlifts
1 minute of med-ball sit-ups
1 minute of hang power cleans
Rest 1 minute
Men: 20-lb. ball, 115-lb. deadlifts and cleans
Women: 14-lb. ball, 75-lb. deadlifts and cleans