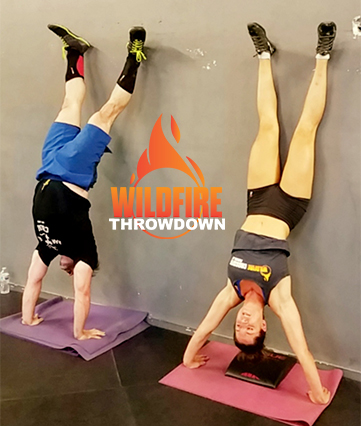 What is THROWDOWN at WildFire CrossFit?
Throwdown is a class we have every Saturday at 10am that is designed to get athletes ready for competition. The class is an hour and fifteen minutes long so that we have time to do more work and allow for rest and recovery between workouts.
While we are still coaching athletes on form and technique, we don't spend much time breaking down the exercises like we do in our regular CrossFit classes unless we are working on something new. The coaching focus is more on how to approach the workout to get the best possible outcome and how to apply it to competition.
In Throwdown, we program exercises that are more advanced, heavier, and apply rep schemes and time domains that are going to push each athlete to their limit.
There is no warm up to this class. Instead, we will do 3-4 workouts, and a typical class will start with a Conditioning workout, then go into a workout that involves more Strength before putting it all together with a WOD...or two. While this is a typical Throwdown class, two of the many elements that makes CrossFit work so well are "expect the unexpected", and "constantly varied".
Anyone is welcome to attend Throwdown and the more the merrier. We are still going to scale things according to your fitness level.
We need to start tightening up a few things so that we can do more and make this a class that will help athletes who have a goal of competing be their very best when the time comes.
First, the class begins at 10am. That means, if you are walking in the door at 10am you are going to be late. We go until 11:15am so we have time to do more and allow for rest and recovery between workouts.
At WildFire, we have always allowed a certain leniency when it comes to being late for class. We figure, you guys are adults and you have adult things to do (kids, work, & life). Being that this class is training you for competition, what would happen if you showed up at a competition late, not ready, or unprepared?
So, here are a few standards to get the best results possible in the Throwdown class:
Get to the gym 5-15 minutes early to stretch, roll out, and get ready for the first workout. We want you to take the time to foam roll, use the bands, and stretch out…just do it before class begins at 10am. As I mentioned last week in class, all our athletes could benefit from more mobility and recovery.
Be sure to get in for Coach Nicole's Mobility & Recovery class every Sunday at 10:45am.
Next, be prepared for anything. Have your Olympic lifting shoes, wrist wraps, jump rope, water, and anything else you might need, ready to go. In your car is not "ready to go". No matter what is programmed, you never know when we might throw in a curve ball. Be prepared for anything. (Yes. I said it twice).
Think about the things you need to work on. Training your weakness is going to make you better and this is a great class to do it. Things such as resting too long between exercises, faster cycling of the barbell, or just working on going heavier and challenging yourself more every week. Share it with the Coach so they can hold you accountable to it during the workouts.
Come ready to do work and push yourself as hard as possible. Cheer each other on. Challenge each other to do more and uphold the standards of the workout. In other words, do all your reps and hit the points of performance that you know will be required with each exercise.
Above all, HAVE FUN! Recognize that if you are taking this class, you are a bad @$$! It's not for the faint of heart. You must get out of your comfort zone and when you do, that's when real progress happens.
By holding each other to these standards in Throwdown will not only raise this class to a whole new level, it will carry over into every other class at WildFire CrossFit.
So, get to Throwdown, every Saturday at 10am. It will make you the best you can be!
Today in THROWDOWN…
Conditioning: Grab a Med Ball and GO!
4 Rounds For Time – 15 Min Cap
100M Run
100M Run w/Med Ball
10 Med Ball Cleans
10 Russian Twist
10 Med Ball Push Ups

Strength: "Down Time"
5 Min to Warm Up – Then:
1 Min Max Squat Clean 185/125
2 Min Rest
1 Min Max Ring Dips
2 Min Rest
Then 45s w/ 90s Rest
Then 30s w/ 1min Rest x 2
WOD: 8/18/18
4 Rounds For Time Of:
18 Deadlifts 225/155
8 Handstand Push Ups
18 Dumbbell Snatch 50/30
8 Burpee Over Bar
And YES…I have a finisher if there is still time!! 😊