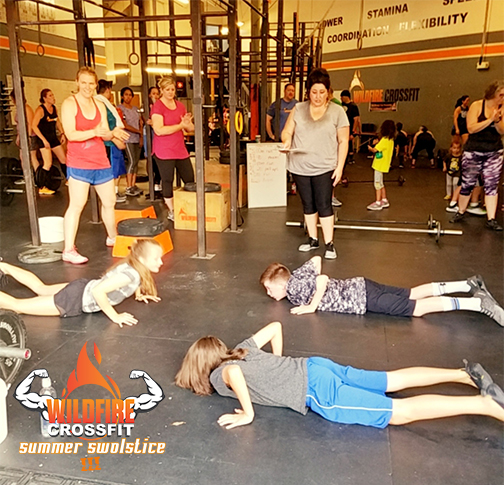 Stronger Together at Summer Swolestice III
One of the things that I love about the WildFire Community is that everyone's goals are just a little bit different. Whether you have thought about it this way or not, the thing that has brought us all together is common interest in being our best self. That definition varies from person to person. And that's one of the things that makes WildFire CrossFit so special.
What's really cool is to see those goals evolve and change over time. I can't tell you how many people wrote things like "lose weight, get stronger, and increase endurance". It usually doesn't take long before people have a much deeper understanding of what they can get out of a community like this.
I'm talking about things like self-confidence, a sense of belonging to a team, being able to be there for others, being a role model, and even being a great friend. Sure, breathing better is nice, and the confidence to know you can pick your own bodyweight off the ground is a plus, for so many, these are just the fringe benefits of being a part of an incredible Community.
Summer Swolestice was a great example of what this Community is all about. Athletes competing against each other and cheering for each other at the same time, making new members of the community feel welcome, and all around celebrating how much fun we can have with fitness.
The final event of the Summer was a blast, and we appreciate everyone who came out to participate, help judge, and help cheer on your fellow athletes. Whether you did all 3 events, or were only able to make 1, we thank you for being a part of it.
The workouts were a lot of fun both to participate in and to watch. The level of competition and watching all the athletes go all out was fantastic. My favorite was the kids' participating and being able to showcase all of Coach Erin's hard work with the CrossFit Kids. And after all the hard work was done, it was awesome to be able to kick back, turn up the music, and just hang out and have fun with so many of my favorite people in the world.
The time we spend in the gym working out is awesome. It's that time between classes, at events like this, and the gatherings outside the gym that really make what we do special. This Friday even more so because you, the members got to thank a Coach and let her know how much you appreciate her dedication and hard work she has given you. While we are very sad to see Coach Erin go, she will always be a part of the WildFire Family and I know how much she appreciated all of you being there to send her off.
We will continue to have events like this where we can come together as a Community and do more than just work out. Besides Hotshots coming up in just over a week, our Anniversary Party in October, and our Holiday party in December, we have a lot of cool things planned for the Fall and Winter, both to keep you at the top of your game when it comes to fitness, and to bring the amazing members of the WildFire Community together.
The Boot Camp motto really applies to us all. We are Stronger Together. This kind of strength carries a lot more weight than just being able to lift more. It gives as a shield, a suit of armor, that protects us even when we go outside the gym because we know we will always have a place to go where people have our back.
So, stay tuned to all kinds of cool stuff coming up at WildFire, get ready for an incredible weekend with Hotshots, and Thank You for being a part of WildFire CrossFit!