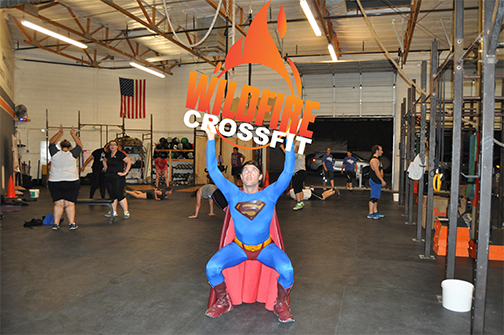 BE YOUR OWN SUPERHERO!
Who doesn't like a good Superhero movie?
Since 2008, when the first Iron Man movie came out, we have had plenty of them to keep us entertained. The struggle of good vs evil. Heroes who, against all odds, find the courage to sacrifice themselves for the greater good.
Even if you aren't into all the fantasy and adventure of the comic book world, how about a good sports movie. "The Natural" is a fictional movie about a baseball player, who at an older age, upholds his integrity in the face of power and greed for a chance at winning the game he loves. I still tear up every time I watch "Miracle", the true story of the 1980 Olympic Hockey Team winning the Gold Medal. I know, spoiler, although the title kind of gives it away.
Not a sports fan? Everyone loved "Forest Gump", the story of a dim-witted man who, regardless of his intelligence, becomes a Football Star, a War Hero, an Olympic Gold Medalist, Shrimp Boat Captain, a "Gazillionaire", and finally a Lawn Mower. He even got to meet the president…" again".
These movies are entertaining, and with the technology available today, visually stunning, but that's not the only reason we love seeing the Hero win. I believe we love these movies because we can relate to the human struggle these characters face.
They make the decisions we wish we could make, and even when they screw up, they always find a way to make up for their mistakes and overcome whatever obstacle is in their path. They lift others up around them and make the people they touch be their inspiration for succeeding. Above all, they have integrity, and they never compromise the beliefs they know in their heart is right, even when the people around them are telling them they are crazy.
The scene in "Miracle" for example, when, even though his Assistant Coach and Team Doctor are telling him enough, Coach Herb Brooks pushes his players to continue doing drills until they come together as a Team. Who's heart didn't melt when Michael Eruzione finally proclaims: "I play for The United States of America!"?
You may be wondering what my point is in all of this. And no, I'm not going to be moonlighting as a movie critic anytime soon. My point is that we all can be a Hero in our own way through the choices we make, the courage we embrace, and the people touch.
You don't have to be able to leap tall buildings in a single bound, be bulletproof, or run faster than the speed of light to be a Hero. You can do it through the choices you make every day. You can choose to be a good person. To be there for your kids and your family when they need you. To listen when a friend is struggling. To work hard and inspire others to be their best self.
We get to be part of a Community at WildFire CrossFit that is full of Heroes. You inspire each other, you push each other, you work together and lead by example. Some of you may even have friends and family who laugh at you when you tell them you joined CrossFit. Yet your determination, persistence, and eventually, incredible results are the last laugh.
You are a Superhero. Now, you may think this is over-dramatic. That's okay. You inspire people every day just by showing up and giving it everything you have got. And I'm not talking about just CrossFit either, I'm talking about life.
So, be your own Superhero. Live your life with courage and integrity. Do what's right, even when it's challenging. Encourage, include, and inspire by living up to and following through with the decisions you make.
It's easy to make excuses when you realize your goals are hard. Own it, follow through, and bring others along with you for the ride.
You all have what it takes to do incredible things. All good Superhero's have something to fight for, it's their "Why?". Find your "Why?", take massive action to see it through to the very end, and then re-set and go again.
Finally, I want to thank every one of you, who inspire me to be the best I can every day. This article was inspired by Sara Howland, who yesterday, donated a kidney to her husband who has had health issues since he was a kid. When faced with a challenging decision, she was there for her family, and made the ultimate sacrifice to do what's right. You are a Superhero Sara, and I Thank You for it!
Find your inspiration to do what's right, and continue to Be Your Own Superhero!