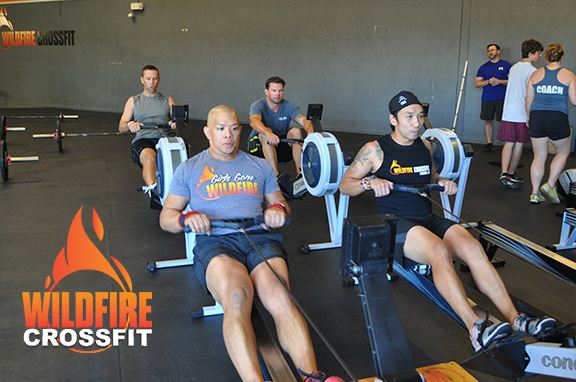 It's all about the Intensity
Yesterday, we worked a lot of strict exercises. The Shoulder Press and Strict Pull Ups & Handstand Push Ups require a lot more strength, even though, compared with the Push Press & Kipping, where a lot more reps can be completed.
I know by the 2nd half of the WOD, even with the run as a rest for the shoulders, that fatigue started to set in and the exercises felt a little sloppier. Compared with other workouts even with higher reps, I was taking longer rest so that I could keep the movements as strict as possible.
Today, it's all about the intensity. That's the whole reason the "Tabata Protocol", a form of timed interval training, came to be. Scientists were looking for a way to increase the athletes VO2 max, which, according to the smartest person on earth, Mr. James T. Google, "measures the amount of oxygen a person can utilize during intense or maximal exercise".
In CrossFit, instead of using fancy equipment and breathing apparatuses, we are measuring your work capacity.
The whole point of Tabata is that we can go faster, or, do more work, in a shorter time period knowing we are going to get a rest at the end. A Tabata cycle is 20 seconds of work followed by 10 seconds of rest for 8 rounds. It combines Aerobic (or continuous) and Anaerobic (so fast you can barely breath) to help you increase your work capacity.
Here's how it works: If we are doing Air Squats, and I give you 2 min and 40 sec to do as many Air Squats as possible, you are going to get some good reps in. Just remember, any time you rest or slow down, the amount of work you complete in the given time is going to be compromised. Conversely, with the same Air Squats using the Tabata Protocol, knowing that you are going to get 10 seconds of rest after each 20 sec period of work, you can do a lot more work in the same period of time.
That's why this is such a great way to build your endurance. And if you did the workout yesterday, today is a must if you don't want to feel like a T-Rex tomorrow.
The whole point of the Tabata workout is to hit that red line of intensity during each 20 sec of work because you know that rest is right around the corner.
So get in, go fast, and get your sweat on for a Thursday Tabata workout you don't want to miss!
For the workout, if you checked out Beyond the Whiteboard earlier, we made a slight change to the workout. While we did plan to do a little more running this week since it was supposed to be a little cooler, we didn't plan on the high humidity.
So, instead of 1 Round and a mile run, we changed it to 2 Rounds with a 12 min cap and a 200 M Farmers carry, which is also designed to stretch out those shoulders after yesterday.
REMEMBER TO VOTE for the workouts your would like to see during the Summer Swolestice tomorrow night at WildFire CrossFit by going to the WildFire Athlete Page (CLICK HERE). For all the details on the workouts including weight and scales, and an explanation of how to vote, check out yesterday's blog, HERE.
Thursday, July 12th 2018
Warm Up: 200M Run or 250M Row
Then, 3 Rounds of:
10 3-sec Push Ups
10 Feet Together Squats
10 Weighted Sit Ups
Tabata Thursday: 20-Sec of Work followed by 10-Sec of Rest for 8 Rounds
Row
Air Bike
Hollow Hold
Pistol
Superman
WOD: 2 Rounds For Time of:
20 Kettlebell Swings 53/35
10 Burpee Box Jump Overs 24/20
200M Farmers Carry
10 Burpee Box Jump Overs
20 Sumo Deadlift High Pulls 53/35
12 Min Time Cap – Leftover reps will be added to the time in seconds.