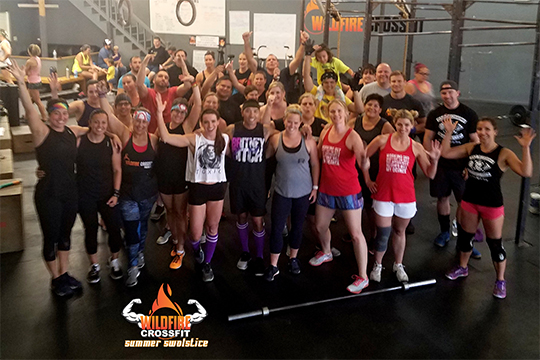 The Summer Swolstice at WildFire CrossFit was on Friday, June 13th and it was an absolute BLAST!!
The first of a 3-part series, this month, partners worked together to complete two very challenging workouts.
Check out all the photos on Facebook: CLICK HERE
Workout #1 was a Weightlifting Burner. With high reps and relatively light weight, it was nice to know we had a partner to share the burpees with between each weightlifting set.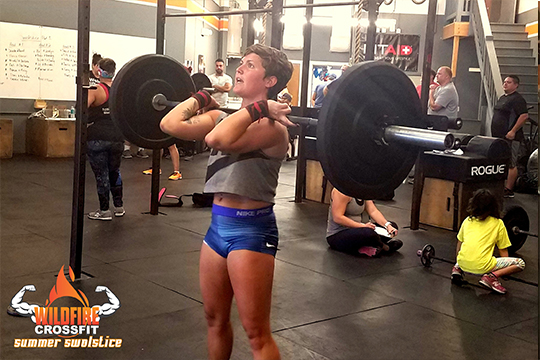 WOD #1: For Time
60 Deadlifts 135/95 | 95/65
30 Bar Over Burpees
60 Hang Power Cleans 135/95 | 95/65
30 Bar Over Burpees
60 Front Squats 135/95 | 95/65
30 Bar Over Burpees
60 Shoulders To Overhead 135/95 | 95/65
Partners could split up the work however they chose. Some of the teams had very specific plans throughout the workout. Others quickly retreated to plan F and just kept moving. None of the 18 Teams finished below the 15 min cap.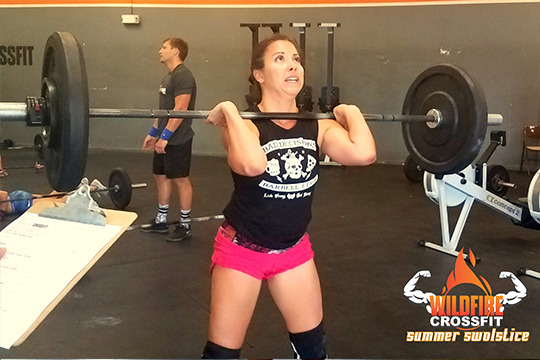 It was a grueling test of strength, stamina, and mental toughness. The key was to keep moving and break the work into larger sets.
Workout #2 was a Gymnastics/Endurance workout.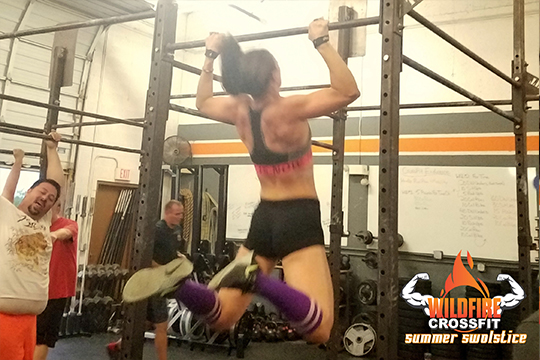 Workout #2: 12 Min ARMAP
While Partner runs 200M - Max Toes To Bar
Switch
While Partner runs 200M -Max Pull Ups
Switch
While Partner runs 200M -Max Handstand Push Ups
Switch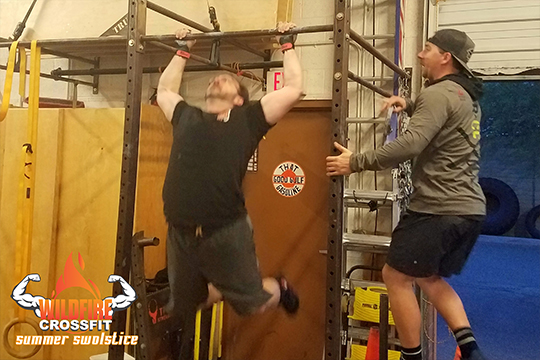 In the second workout, both partners were working at the same time. While 1 partner ran 200M, the other had to do as many reps of each gymnastics movement as possible until they got back. Then they switched, continuing through each exercise for the entire 12 min.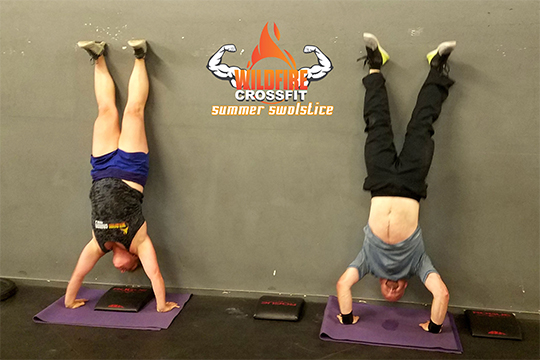 This workout was a lot of fun! There really wasn't much strategy involved other than having the better gymnast start so they were fresh for the Toes to Bar.
Check out all the photos on Facebook: CLICK HERE
It was great to have a good ol' fashioned In-House competition. Everyone did awesome and the best part was the way everyone got done with their workout and went right into cheering on everyone else.
Once all the work was completed, we fired up the grill, cracked open some cold beers, and spent the rest of the night laughing, eating, drinking, and talking about all things CrossFit.
This is what makes WildFire CrossFit such a special place to work out. It goes way beyond just fitness. The members of this Community work together, they push each other, they learn from each other, and they surround themselves with other positive people who now live a fit and healthy lifestyle.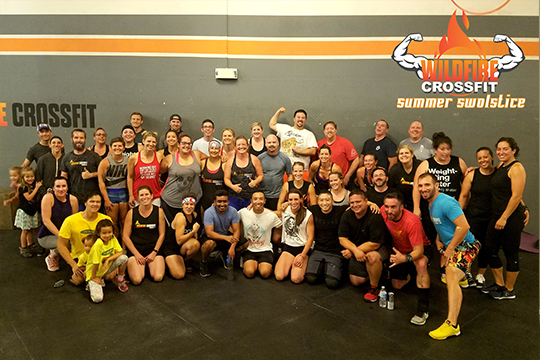 Summer Swolstice Part 2 is coming Friday, July 13th and it's going to be an individual workout. If you missed the first one, you can still participate in the next one and we have a little twist we think you will enjoy.
We are going to let YOU, the community, choose the workouts. That's right, we are going to leave it up to you! Here's how it is going to work….
WildFire CrossFit members will have from now until Thursday, July 5th to submit their workout ideas. Then, from Friday July 6th until Tuesday, July 10th, you will be able to vote on which workouts you want to see and/or participate in.
You can choose from workouts we have seen in the Open, Regionals, or even the Games. You can choose a Benchmark workout, something we have done in class, something you have seen at another competition, or one that you make up yourself.
So get creative and let's have some FUN as the Summer Swolstice continues all Summer long at WildFire CrossFit
Check out all the photos on Facebook: CLICK HERE