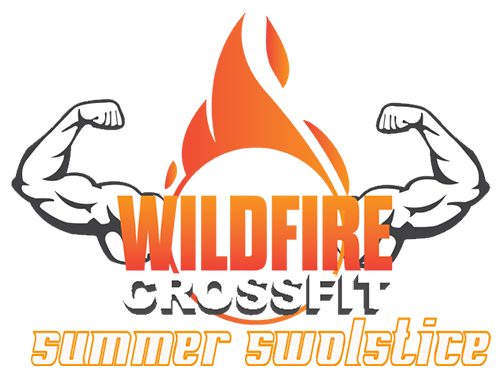 Summer is here and at WildFire CrossFit, we have all kinds of great stuff to keep you on track with your fitness and nutrition goals.
The Summer Swolstice is coming!
This is an in-house competition designed to be fun and bring this incredible Community closer together.
Each month we are going to focus on a different type of event:
Friday, June 15th will be for Partners
Friday, July 13th will be for Individuals
Friday, August 10th will be Teams
In addition to the workouts, we are going to be supplying food and drinks to keep the fun going once the WOD is complete.
So, stay tuned for more info and start finding a partner for the first event. You won't want to miss out on this one!!
Programming Week of June 4-8

Monday, June 4th 2018
Warm Up:
3 rounds of
Row 250
10 V-ups
10 Jumping squats
Handstand practice:
Handstand Hold 30 sec
Wall Walk
Handstand Push Up
Power Clean Movement Prep
3 Jump Shrugs
3 Hang High Pulls
3 Hang Muscle Cleans
2 High Hang Power Cleans
2 Hang Power Cleans
2 Power Cleans
Strength: Alt EMOM 14 Min
3-5 Handstand Pushups (Strict)
1-3 Hang Power Clean (1-80% of 1RM | 3 - 60% of 1RM)
WOD:
5 Rounds For Time
3 Hang Power Cleans 135/95
3 Jerks (Push or Split) 135/95
3 Strict Handstand Push Ups
(scale is off a box with "L" position, then dumbbells and strict press)


Tuesday, June 5th 2018
Warm Up: 400m Run
Then
:30 Seconds each 2 rounds through
Jumping Jacks
Donkey Kicks
Active Spidermans
Active Samson
Push-up to Down Dog
Air Squats
Banded Walks
Barbell Warmup
5 Good Mornings
5 Back Squats
5 Elbow Rotations
5 Strict Press
5 Stiff-Legged Deadlifts
5 Front Squats
Strength: 1 1/4 Front Squat
3-3-3-3-3
WOD: 10-8-6-4-2 reps, for time of:
Thruster, 135/95 lbs
Toes-to-bar


Wednesday, June 6th 2018
Warm Up: 200m Run
Line Drills
Strength/Skill: Max Height Box Jump
WOD: For Time
Run, 800 m
40 Wall Ball Sit-ups, 20/14 lbs
Run, 600 m
30 Burpee Box Jump Overs, 24/20 in
Run, 400 m
20 Ring Dips
Run, 200 m
10 Wall Balls, 20/14 lbs

Thursday, June 7th 2018
Warm Up: 3 rounds
1 min Jump Rope
10 Push Ups to Down Dog
10 Jumping Pull ups
10 Deep Lunges
Strength:
"Lynne"
5 rounds for max reps of:
max rep Bench Press, 1x bodyweight
max rep Pull-ups
WOD: 100 Double Unders for Time


Friday, June 8th 2018
Warm Up: Partner warm up
Row 2000m row -break up anyway you want, Partner holds in a Plank or a squat
10 PVC Pass Throughs
10 Warrior Squats
10 PVC Overhead Squats
Strength: Snatch Grip Deadlift
3-3-3-3-3
WOD: For time:
3 rounds of:
5 Bar Muscle-ups
5 Snatches, 155/105 lbs
-- then --
3 rounds of:
15 Deadlifts, 155/105 lbs
30 Squats
-- then --
3 rounds of:
5 Bar Muscle-ups
5 Cleans, 155/105 lbs