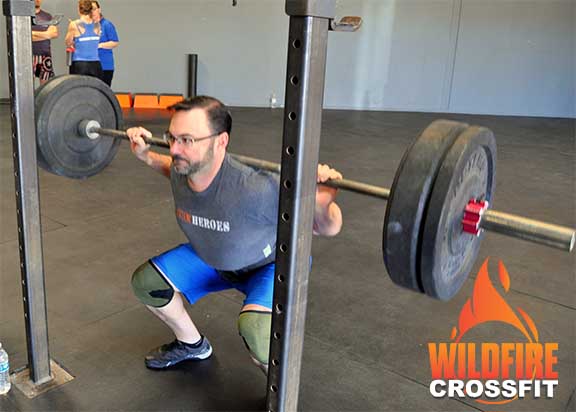 This week at WildFire we have all sorts of FUN in store for you!

In addition to a great week of programming, we get to cap it off with the 4th Annual Fire & Ice Challenge at WildFire CrossFit!
Join us as we get to host Teams of CrossFit Athletes from all over Arizona who are ready to step up to the challenge. Each Team consists of 2 Men & 2 Women who will participate in 4 Events plus a Final for the Top 4 Teams in the Rx & Scaled Divisions.
REMINDER: All Classes this Saturday (May 19th) will be cancelled, so, come out and watch this awesome event!
Today at WildFire CrossFit…
It's always great to start the week with some Back Squats!
If building Strength is a goal, doing the Back Squat regularly is a must for all the benefits on the body and the effect is can have on the rest of your training.
It's important to have a plan when you are doing Strength exercises like the Back Squat. That's why keeping track of your workouts in Beyond the Whiteboard is SO important, so that you know exactly what you did in the past.
This will help you choose your starting weights as well as help you set a goal of how heavy you want to get.
Today, we are doing 3 sets of 5 reps and 3 sets of 3 reps. While this isn't necessarily a 3 reps max, we do want you to get heavy today. A good goal to shoot for would be 85-90% of your 1 Rep Max.
By setting a goal for your end weight, this will help you add weight accordingly as you begin with higher reps.
Then, for the Workout…
We have a little Endurance/Gymnastics combo for you today. Short and sweet to give you plenty of time for those Back Squats.
Start your week off right with the 3 Pillars of CrossFit: Weightlifting, Endurance & Gymnastics…and Have FUN!!
Programming Week of May 14th - 18th
Monday, May 14th 2018


Warm Up: 200m Run
Line/Running Drills
10 squats
10 Good Mornings
10 push-ups


Deck Squat Warm Up


Strength: Back Squats 5-5-5-3-3-3


WOD:
400m Run for Time
Rest 2 min
Then on the next minute start
For time:
50 Deck Squats
Scaled: For time:
50 Weighted Stand Ups, 53/35 lbs
Tuesday, May 15th 2018


Warm Up:
10 Penguins
10 Slow mountain climbers
10 Fast mountain climbers
10 Jumping Pull ups


5 min Double Under Practice


Strength: Dumbbell Bench Press 6-6-6-6-6-6
WOD: For time:
50-40-30-20-10 reps, for time of:
Double Under
Single Arm Dumbbell Clean & Jerk, 50/35 lb
Wednesday, May 16th 2018


Warm Up: 250m Row


Burgener Snatch Warm Up
1-3 Down & Up
4-6 Speed through the middle (elbows high)
7-9 Muscle Snatch (quick turn over)
10-12 OHS
13-15 Snatch Lands 2"-Light Power snatch, 4" Heavier Power snatch, 6" heavier power snatch
16-18 Squat Snatch


Skill Transfer
Snatch Push Press
OHS
Pressing Snatch Balance (in squat stance)
Heaving Snatch Balance (in Squat stance)
Snatch Balance (jumping to landing position which is the squat)
2x PVC and 1x Barbell
Strength: Complex of 1 Power Snatch + 1 Squat Snatch
1-1-1-1-1-1-1


WOD: 5 rounds for time of:
10 Toes To Bars
10 Power Snatches, 75/55 lbs
Thursday, May 17th 2018


Warm Up: 200 m Run
5 Scap Pulls
5 Kip swings
10 Down Dog to Up Dog
10 Lunges
2-3 rounds including the run
Strength: Front Rack Lunge 8-8-8-8-8


WOD: "Tabata Something Else"
Tabata Pull-up
Tabata Push-up
Tabata AbMat Sit-up
Tabata Air Squat
The Tabata interval is 20 secs of work followed by 10 secs of rest for 8 intervals.
Tabata score is the total reps performed in all of the intervals.
Friday, May 18th 2018


Warm Up: 1000m Row
3 rounds of
6 Broad Jumps
2 Wall Walks


Handstand Push Up Skill Work


Handstand Walk Skill work


Strength: 10 Min EMOM
Rx 3-5 reps
Every 1 min for 10 mins:
3 Handstand Push-ups


RX+
Handstand Walk : 10M Every Min


Scaled: Dumbbell Shoulder Press
3 Dumbbell Shoulder Press, pick load


WOD:
AMRAP 9 mins: Push Jerks and Box Jumps
Complete as many rounds as possible in 9 mins of:
3 Push Jerks, 155/105 lbs
6 Box Jumps, 30/24 in
REMINDER:
THIS Saturday, May 19th is the 4th Annual Fire & Ice Competition at WildFire CrossFit. All classes will be cancelled. Please come out and check out all the FUN!