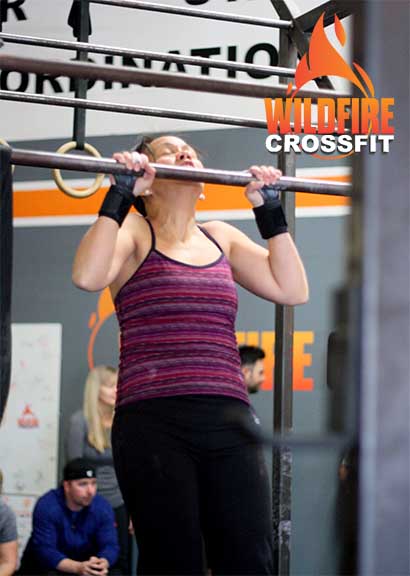 We have another great week of workouts, including an awesome prep for "Murph" which is coming up on Memorial Day, May 28th.
Formerly known as "Body Armor", it was renamed "Murph" and became the first Hero workout CrossFit used to honor the bravery and sacrifice of Lt. Michael Murphy who gave his life protecting our freedom in Afghanistan back in 2005.
It has become a tradition in the greater CrossFit Community that we do "Murph" every Memorial Day and this year is no different.
"Murph"
For Time
1 Mile Run
100 Pull Ups
200 Push Ups
300 Air Squats
1 Mile Run
And since we are doing a Hero WOD at the end of May, we figured we would start it off with the Girl WOD, "Angie".
"Angie" is also For Time:
100 Pull Ups
100 Push Ups
100 Sit Ups
100 Air Squats
Today at WildFire…
We are working on the Split Jerk for strength. This is a great exercise for building explosive power by getting under the bar quickly.
Then, we have a nice little, For Time, workout to complete.
All kinds of good stuff coming at you, from WildFire CrossFit!!
This week at WildFire…
Monday, April 30th 2018


Warm Up: 200m Run
25 Med Ball Taps (R+L) =1
15 Med Ball Presses
100m Med Ball OH Carry
10 Med Ball Lunge with twist
5 Med Ball Ab Pike
2 rounds
Strength: Split Jerk
8-8-6-6-4-4-4


WOD: For time
400m Medicine Ball Run, 20/14 lbs
20 Kettlebell Swings 70/44 lbs
80 Double Unders
200m Medicine Ball Run 20/14 lbs
10 Kettlebell Swings 70/44 lbs
40 Double Unders
Tuesday, May 1st 2018


Warm Up: Shuttle Run & Line Drills


2 rounds of
10 bent over rows (pick load either barbell or dumbbell)
10 Band pull downs (each arm)
5 Squats with at 3 sec pause


Endurance: Run 1 mile for Time


WOD: For time
100 Pull-ups
100 Push-ups
100 Sit-up (abmat)s
100 Air Squats
Wednesday, May 2nd 2018


Warm Up: 250 m Row
Partner Med Ball Toss

Handstand Skill work: Handstand Hold
Handstand with toes on a box walk to L position


Barbell Clean-thruster warm up:
Shrug > High Pull > Squat Clean > Thruster


Strength: 1 Cluster + 1 Thruster
2-2-2-2-2

WOD: 12 Min AMRAP
3 Thrusters, 135/95 lbs
6 Handstand Push-ups
9 Toes-to-bars
Thursday, May 3rd 2018


Warm Up: 1 min each station
Bike
Ab wheel
plank hold
back ext
Jump rope
1-2 rounds
Strength: Bench Press
2-2-2-2-2


WOD: 20 rounds for time of:
2 Burpee Over Bars
3 Hang Power Cleans, 185/115 lbs
5 Box Jumps, 24/20 in
Friday, May 4th 2018


Warm Up: 200 m Run
10 Single Leg KB DL
5 each direction Plate windmills-shoulder warm up
10 ring rows
10 Lunge with a twist
2 rounds including the run


Strength: 3 Deadlifts, 75% 1RM
Every 1 min for 15 mins


WOD: For time
Dumbbell Front Rack Walking Lunge, 25 ft
5 Ring Muscle Ups
Dumbbell Front Rack Walking Lunge, 20 ft
4 Ring Muscle Ups
Dumbbell Front Rack Walking Lunge, 15 ft
3 Ring Muscle Ups
Dumbbell Front Rack Walking Lunge, 10 ft
2 Ring Muscle Ups