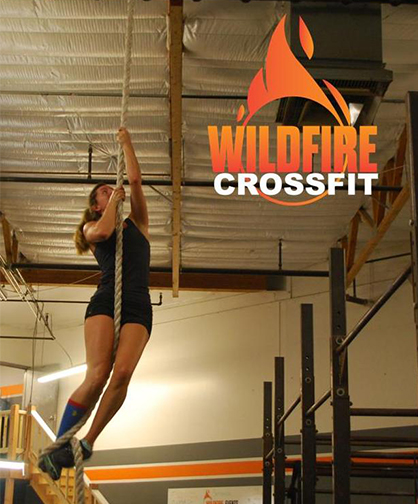 Today, among other things, we are going to be working on Rope Climbs. While you may think, the Rope Climb was just an exercise used to torture kids in gym class, it's actually an important skill to have for survival.
Sure, nobody plans to be stuck on a cliff or down in a hole, however, it sure would be nice to know how to climb a rope if there was one that could get you to safety!
Today we are going to teach you the skill of climbing a rope by using your feet to hold on. It's very important to wear long socks, pants, or even shin guards to prevent rope burn which will happen if you don't cover your shins.
Property footwork can be learned, grip strength has to be built, with exercises like the farmers carry we did last week, pull ups, and pretty much anything we do with a barbell or dumbbell.
This is also an important skill to practice. Just because we don't do them in class as often doesn't mean you shouldn't still work on them. If you ever need help practicing rope climbs, grab a Coach and get ready to climb.
It's going to be a GREAT week, so start it off right at WildFire CrossFit!
Monday, April 23rd 2018
Warm up: 3 min Jump Rope
Then 3x
15 V-ups
10 Squats
5 Down Dog/up dog with push up


Strength: EMOM
Min 1-5 Row 12 cal
6-10 Perform 5 ring dips
11-15 Perform 25 Unbroken Double Unders


Skill: Rope Climbs


WOD:
For time:
4 Rope Climbs, 15 ft
30 Push-up (hand release)
Row, 500 m
Tuesday, April 24th 2018
Warm Up: 2 rounds of
200 Meter Run
10 Sit-ups
10 Air Squats
10 Kettlebell Deadlifts
5 Russian Kettlebell Swings
5 Kettlebell Swings
5 Box Jumps * increase height
5 Jumping Pull ups
Strength: 3 rep max Front Squat


WOD: 21-15-9 reps, for time of:
Box Jump, 24/20 in
Pull-up
Wednesday, April 25th 2018
Warm Up: 30 Seconds of each
Medball Foot Taps
Air Squats
Medball Deadlifts
Active Samson
Medball Slams
Active Spiderman
2x


Strength: Turkish Get Ups
8 sets of 2 each arm
10 Russian Twists Between Each Set (Use same TGU Weight)

WOD: For time
27 Wall Balls, 20/14 lbs
27 Burpees
Run, 200 m
21 Wall Balls, 20/14 lbs
21 Burpees
Run, 200 m
15 Wall Balls, 20/14 lbs
15 Burpees
Run, 200 m
9 Wall Balls, 20/14 lbs
9 Burpees
Run, 200 m
Thursday. April 26th 2018
Warm Up: 1000m row
10 lunges
10 good mornings


Shoulder warm up
With at 5# or 2.5# plate
5 front arm raises
5 Side arm raises
5 shoulder presses
5 rotations
5 arm circles forward then back


Core Grinder 5 min
Plank hold
Hollow hold
Superman
Flutter kicks
Lemon Squeezers


Strength: Shoulder Press 5-5-5-5-5-5-5

WOD: For time
12 Shoulder Press, 95/53 lbs
Run, 400 m
12 Push Press, 95/53 lbs
Run, 200 m
12 Push Jerks, 95/53 lbs
Run, 100 m
Friday, April 27th 2018


Warm Up: Run/Row
Line Drills:
Inch worm
Deep lunges
Straight Leg Kicks
Mule Kicks
Side lunges


Snatch Burgener Warm Up


Strength: Snatch Grip Deadlift + Shrug + Snatch High Pull
2-2-2-2-2-2


WOD: "Randy"
For time:
75 Power Snatches, 75/55 lbs