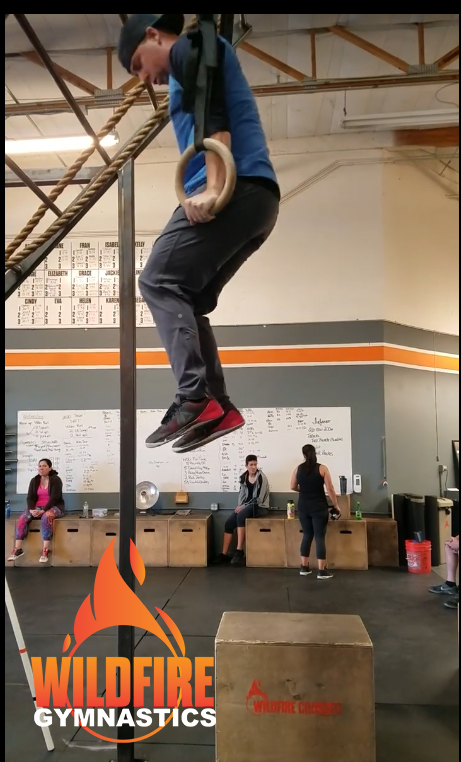 The 2018 CrossFit Games Open competition brought all kinds of new challenges. The workouts were arguably the toughest we have faced as athletes in both the Rx and Scaled divisions.
There were new standards for exercises that pushed athletes to their limits and forced them to be more proficient at skill-based exercises from the very beginning of the workout.
How many athletes got their first Muscle Up or Pull up because of Open WOD 18.3?
I know at WildFire, we had several athletes who probably would not have even challenged themselves to get a pull up if the workout hadn't forced the issue.
And how many athletes got their first Muscle Ups in a workout because they had time to work on them?
It makes it easier to see the method in the madness when it comes to how Dave Castro and the CrossFit HQ Team programs these workouts, because even though The Open is over, athletes are still holding themselves to higher standard.
That's the point of fitness. To continue to challenge yourself to get better, learn new skills, and to test our strengths and chip away at our weaknesses.
So now that The Open is over, it is important for you to continue to challenge yourself to get better and learn new skills, and work on them during workouts.
Just don't do it at the expense of your workout.
For example, if there are pull ups in a workout, and you just did your first few pull ups during The Open, continue to hold yourself to that higher standard. Just don't spend the entire workout struggling to get 1 or 2 pull ups when there is more work to be done.
Same thing goes with any of these skill related exercises.
Today we have Ring Muscle Ups. If you just completed your first couple in a workout, work to get as many as you can, then make the appropriate modifications (bar muscle ups, pull ups & ring dips, or even muscle up transitions on the lower rings) so that you are still getting quality work in.
As Coaches, we are here to help you work on these skills and get better as athletes. We will always find the time to help you continue to raise your game, so you can be the best athlete possible.
That includes events such as the Kipping Clinic on Saturday, April 14th at 11:30am where we are going to be teaching you the skills you need to get your pull ups and make them more efficient.
This is a free event to help you get better and learn new skills.
It's been awesome to watch the WildFire Community challenge themselves to reach new levels and we have some big things coming to make you guys even better, so keep it up and continue to be your best at WildFire CrossFit!
Monday, April 2nd 2018

Warm Up: R1, R2, R3
250m row/200m run/250m row or 200m run
Squat/OHS with a pvc or barbell/front squat with a barbell
Ring Rows/Muscle up transitions/muscle up transition jump
Strength: Front Squat 6-6-8-8-10-10

WOD: 4 rounds for time of:
9 Ring Muscle Ups
20 Overhead Squats, 95/65 lbs
Tuesday, April 3rd 2018

Warm Up:
3 min Jump Rope
2 min Burpees
1 min Double Under Practice or Lateral Jumps

Barbell Clean Warm Up
3x From the ground to shrug
3x from the ground to shrug high pull (elbows high and out side)
3x Power Clean Focus on footwork and squatting in the 2",4" range

Strength: Power Clean 3-3-3-3-3

WOD: In 20 mins do:
Run, 1000 m (start with a 200 then go right into the 800)
then in the remaining time, AMRAP of:
5 Pull-ups
10 Push-ups
15 Air Squats
20 Double Unders
Wednesday, April 4th, 2018

Warm Up:
250m row
10 KB swings
5 push ups to down dog
3x


Strength: Every 1 min for 10 mins: Deadlift
5 Deadlifts, 60% 1RM
WOD: 3min on 1min rest 3x
3 DeadLifts 255/185
5 Burpee over the Bar
7 Sit ups
Thursday, April 5th, 2018

Warm Up:
30sec each of
Jumping Jacks
Jumping Squats
Plank hold
Pop outs (bottom half of burpee without the push up, work on getting feet to hands, just the jump in and out)
Superman
Rest
2x Strength: Warm Up Snatch & Thruster weights for WOD

3-3-3 of each


WOD:
4 rounds, 2 mins per station, of:
Power Snatch, 75/55 lbs
Calories, Air Bike
Rest 2 mins
Thruster, 75/55 lbs
Row Calories
Rest 2 mins
Each 2 min is an AMREP for max calories. Score each individually. Rest 2 min after each 2 min of work.
Friday, April 6th, 2018

Warm Up: 400m Run
5 Strict press with the barbell or pvc
5x -10 Sec Handstand Hold-slowly lower down
5 active shoulder pulls on the pull up bar
5 kip swings
5 hollow Rocks
5 Superman to hollow
3x

Strength: Push Press 5-5-5-5-5

WOD: For time:
Run, 300 m
3 Handstand Push-ups
3 Toes-to-bars
6 Handstand Push-ups
6 Toes-to-bars
9 Handstand Push-ups
9 Toes-to-bars
Run, 300 m
9 Handstand Push-ups
9 Toes-to-bars
6 Handstand Push-ups
6 Toes-to-bars
3 Handstand Push-ups
3 Toes-to-bars
Run, 300 m