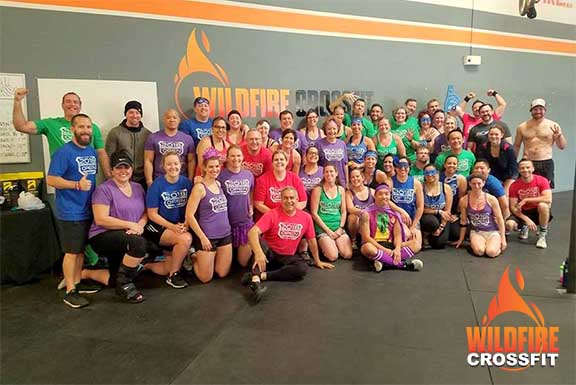 The Open is now officially over and it's been an incredible 5 weeks.
It was awesome to see so many of you step outside your comfort zone and push your boundaries both physically and mentally. We saw people do things that just a short time ago, they never would have thought possible.
Every Saturday, the energy was off the charts & the Community showed up in true WildFire fashion to cheer each other on and push each other to the very end of each workout.
You all deserve a HUGE Congratulations for your performances.
Thanks to every member who helped to make the Saturday Main Event and Sunday run smoothly each week. We could not have done it without you.
Now, the only question is, What's Next?
Use the experience you had in The Open to continue to get better and be the best you can be.
For many of you it was your first Open experience…just make sure it's not your last.
It's easy to look back on the last 5 weeks and "shoulda, coulda, and woulda" all over yourself. To make excuses as to why you didn't perform well or why someone outperformed you.
What you do NOW is going to determine how you do next year in the Open. I guarantee, the people who are going to regionals next year went back to work on Monday, determined and ready to raise their game to the next level and work harder than they ever have before.
Just remember what got you to where you are today. There are no short cuts. There is no magic programming. It is discipline, perseverance, and hard work.
Every year, there is usually someone who decides that now, they need to do it on their own. Even though what got them to where they are today is taking class, listening to the Coaches and accepting feedback, and working to improve their skills to get stronger, faster, and all around better.
As a Team, we have some incredible athletes and with continued Teamwork and Coaching, we can take a Team to regionals next year.
The only question is, will you be a part of that Team.
We will always make ourselves available to those who are ready to work. Plus, between our specialty classes and additional programming, we will make sure you have the tools you need to reach your true potential.
Just remember, if you want to get somewhere fast, go alone. If you want to go far, bring others along for the ride.
The ride begins today, so strap in and get ready for a GREAT one.
Today at WildFire…
Tuesday, March 27th, 2018
Warm Up: 200m Run
10 V-Ups
30 Sec Push Up position Plank Hold
10 Lunges
3x


Strength: Bench Press 3-3-3-3-3
Weighted Step Ups: 4-4-4-4-4 (2 each leg each set alternating)


*Do a set of Bench and then a set of step ups


WOD:
For Time:
300m Run
15 Toes to Bar
15 Push Jerk 155/105
200m Run
10 Toes to Bar
10 Push Jerk 155/105
100m Run
5 Toes to Bar
5 Push Jerk

INFERNO: Build strength and power through your core and hips
Barbell Glute Ham Bridge
10-10-10-10-10