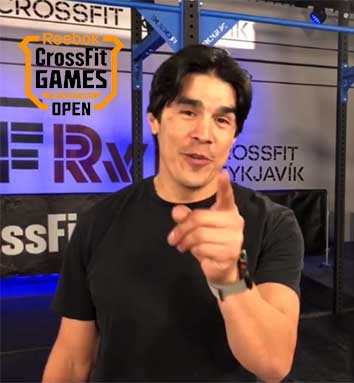 It's the last week of The Open and tonight at 5pm, Dave Castro will give the final announcement.
In a unique, and not unprescedented, twist, WE get to vote on the workout!
That's right, between 3pm and 5pm, we will have the opportunity to vote on Facebook for which workout we want to see in the last week of The 2018 Reebok CrossFit Games Open.
Are Thrusters a given?
Will we see any exercises repeated?
Will the WODs be unique or repeats from previous years?
I can't wait to find out!!
In 2016 (I think) at the CrossFit Games, we had the opportunity to vote on which workout we wanted to see.
The choice was between Heavy DT or Double DT.
Heavy DT won out and athletes had to complete 5 Rounds of: 12 Deadlifts, 9 Hang Power Cleans, and 6 Push Jerks at 205 lbs for Mena and 145 lbs for Women.
It was definitely fun to watch!
What is the final WOD going to bring? Find out tonight at 5 pm at Games.CrossFit.com, and don't forget to vote on the Games Facebook page at 3pm!
Today at WildFire…
Slight change of plans.
Yes, we had Eva programmed for today and decided 150 pull ups probably wouldn't be a good idea right before The Open.
For Strength, we have a plan of 5 by 5 Back Squats. While the plan is Back Squats, today, we are going to give you some freedom to work on a weakness. We got such a positive response from how we did last Friday, you may use the time we are working on Strength to work on a lift or exercise you may struggle with or want to work on just in case it comes up in the final week.
You will have about 15-20 minutes to work on your exercises. Whatever it is, I would still suggest keeping the weight lighter with higher reps. We will have a few suggestions up on the board. Today is a great day to get some extra coaching on technical exercises like the Snatch, Squat Clean, or Pistol.
For the Back Squats…
The first 2 sets are designed to be lighter, warm up sets. While we do want you to go up in weight for the final 3 sets, you should be able to get through your 5 in the final set with some weight to spare. You will do a 3-sec pause at the bottom of each Squat. This is going to build Strength and Power to help you get out of the hole on heavy lifts.
For the workout…
This is just a good old fashioned workout. Whatever weight you choose for the Back Squats, you should be able to do all 15 reps unbroken, so if necessary, go a little lighter.
Yes, I get it, you might be able to struggle through 15 reps. And if you aren't doing The Open this weekend, go for it.
If you are, this is a great workout to just get the blood flowing, build strength, and get some good solid work in.
Thursday, March 22nd 2018

Strength: Back Squats w/ 3-sec Pause
5-5-5-5-5
OR
Chose you exercise to chase your weakness.
WOD: 3 Rounds For Time Of
100M Farmers Carry 70/44 lbs,
15 Back Squats, 135/95 lbs
10 Push-ups
15 Russian Twists, 20/14 lbs