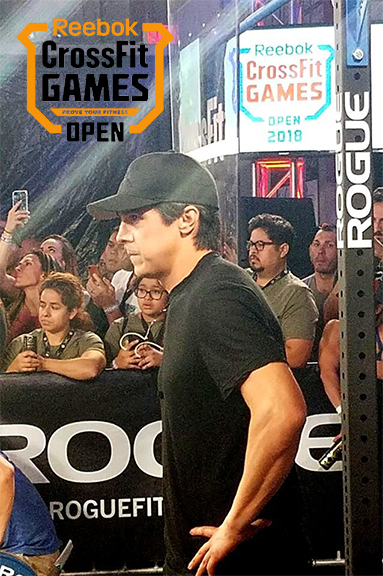 As athletes, we all have strengths and weaknesses. Some exercises feel better than others and we are always going to gravitate towards the things we enjoy the most.
It's also important as athletes to be able to objectively recognize our weaknesses and find time to practice them.
In CrossFit, there is even a term for this (surprise, surprise), so today, you are going to Get your Goat.
Since this phrase refers to something that annoys you or makes you angry, it applies will to practicing exercises that you are not necessarily good at.
So today, you are going to get the opportunity to work on exercises that challenge you, and we and we are going to help you work through them.
Today is also a great day to find a rhyth, on your Deadlits and practice your Handstand Push Ups & Walks.
Just be sure to take it easy if you are participating in The Open on Saturday. You want to practice and improve the skill, not punish your shoulders and back.
As for Open WOD 18.4, Tiffany and I were lucky enough to be invited to the announcement by Peter Egyed who is a 5x Games Qualifier and owner of CrossFit Fury in Goodyear, AZ.
It was such a great experience as we got to watch the Live Announcement up close and personal and watch Scott Panchik dismantle the workout and Karl Gudmundsson close behind.
Panchik, was is a perennial Games Athlete, was very deliberate about the way he broke up the workout from the beginning.
This is especially going to be important for the Handstand Pushups which have a very challenging standard.
That's why practicing before we begin is going to be essential to getting a good score on this workout, so get into WildFire CrossFit today and Get YOUR Goat!
Friday, March 16th 2018

Warm Up: 400M Run
Line Drills
Strength: "GOAT" Day
On the Minute x 20
Odd Minutes: Movement 1
Even Minutes: Movement 2
WOD:
Every 1 min for 8 mins: Wall Balls and Kettlebell Swings
Every 1 min for 8 mins do:
7 Wall Balls, 20/14 lbs
7 Kettlebell Swings, 53/35 lbs


Every 1 min for 8 mins do: (no rest, go right into these so minutes 9-16)
7 Goblet Squats, 53/35 lbs
7 Hand Release Push-Ups
Goal is to be consistent and to increase work capacity!