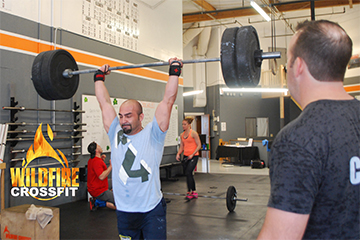 It's almost here, the announcement of CrossFit Open WOD 18.4.
Before we get into that, let's look back at what we have gotten to do so far:
18.1 was a grueling 20 min AMRAP with Toes to Bar (gymnastics), Dumbbell Hang Clean & Jerks (Weightlifting), and a Calorie Row (Endurance).
18.2 & 18.2A was another Dumbbell movement with 55 Dumbbell Squats and 55 Burpees, and if you completed it in under 12 min, you had the remaining time to complete a 1 Rep Max Clean & Jerk.
18.3 was the separator. An opportunity for CrossFit Athletes to test themselves in ways they never have before. Double Unders mixed with Overhead Swuats, Ring & Bar Muscle Ups, and another Dumbbell movement in the Single Arm Snatch.
So far, I love it. Think about 18.3 alone. How many people would never have had the opportunity to get a new Personal Record (PR) had we not been help to a higher standard?
Think about how many oppoirtunities there were…
Double Unders in a Row
Max Overhead Squat
Ring & Bar Muscle Ups
Muscle Ups in a Row
Pull Ups
Pull Ups in a Row
How many people, around the world, got to do something they may not have thought possible at this stage in their fitness.
As Coaches, it was so awesome to see so many of you get a chance to ring the bell! We also felt that same agony in the pit of our stomach for many of you who were so close, and just need to continue to get faster and stronger, because we want all of you to get these movement.
It was also awesome to see everyone stay positive! These were challenging exercises and with work, practice, and a little patience, you will be flying over the bar, putting those rings to work, and churning out those double unders.
18.4 is anyone's guess and so far, I haven't been able to decipher Dave Castro's "hints" on Instagram.
Whatever it is, I'm sure it's going to be good, and what's really cool is that the Live Announcement of 18.4 will be held at CrossFit Fury in Goodyear, AZ. Led by Peter Egyed who is a 4 time Individual Games Athlete and led the Bomb Squad team to the Games twice.
The Live Announcement will be tonight at 5pm on Games.CrossFit.com
We will continue with the same format as the last couple weeks. As soon as we have the Heats situated, we will post a link to sign up for your heat.
Today at WildFire…
Of course we are getting back to double unders. So many of you are so clpse and this is a great workout to really start putting them together. Especially after all the great work you did practicing for 18.3.
We are also going to be getting in some good strength with the Shoulder Press.
It's going to be a GREAT day at WildFire CrossFit, so get in for another good one!
Thursday, March 15th 2018
Warm Up: Jump Rope Warm Up:
20 Singles
10 out and in
10 Side to side
10 Forward and back
10 split forward and back
20 Double Unders
2x

Then
10 Deep Lunge
10 PVC Shoulder Press
10 PVC Clean & Jerk
2x

Strength: Shoulder Press 5-5-3-3-2-2

WOD: For Time
50-40-30-20-10
Double Unders
25-20-15-10-5
Sit-ups
5-4-3-2-1
Clean & Jerk 135/95