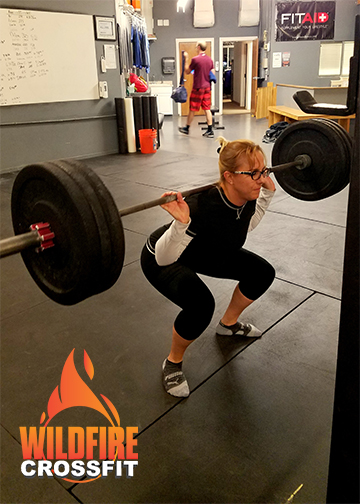 What will the 2nd week of The Open bring in week 2?
We started last week with longer workout with relatively light weight. It had a gymnastics movement to begin in the Toes To Bar, then weightlifting with the Dumbbell Hang Clean & Jerk, and each round finished with an endurance exercise in the Calorie Row.
Whatever Dave Castro has in store for us, I'm sure it will be good.
When you look back on the history of The CrossFit Games and The Open Competitions, there are so many different workout combinations, it's really anyone's guess.
Tonight at 6pm Arizona Time, Dave Castro will make the announcement and Open Workout, 18.2 will officially be underway.
The safe bet is that it will be something shorter than 20 minutes. While that leaves a lot of options, I would guess something short and sweet and Castro has already hinted at it being a burner.
Whatever it is, it's going to be another GREAT weekend at WildFire CrossFit, so be sure to register for your scheduled time so you can participate in all the FUN!
Saturday at 10am is the Main Event, like last week, be sure to get there early to warm up and get ready.
The other time options are:
Friday at 7pm
Sunday at 11:30am
Monday at 1pm
Today at WildFire….
For strength today, we have 5 sets of 5 Back Squats.
This is a perfect day to get your squats in if you are doing The Open on Saturday. With 5 reps at a time, it will force you to stay a little lighter, and still get some good work in.
If you are doing The Open workout tomorrow, it's all good, just stay a little lighter than you would normally go so you still have strength and energy left.
And you are going to need to save some of that strength for the workout anyways.
In anticipation of a burner in The Open, that's what we have today. PLUS we are going to use equipment we have never used before in the regular programming in the Bike.
Now, I know you all want to get on the shiny new Assault Bike's, and I'm not going to make any jokes about it being shiny and black…oh wait…
The fact is, some of you will be using the Air Dynes and some the Assault Bike. There is absolutely NO difference between what you are getting out of each of them. In fact, if there were no computer involved, the stimulus of the different Bikes would be identical.
The ONLY difference is in the way the computer calculates the Calories. That's why, if you are riding the Air Dyne you will do 20 Calories and 15 Calories on the Assault.

Then, we are going back to the Dumbbells with the Push Press.
I know, some of you hoped to not see the Dumbbell again for a while after last week's workout, just remember, in the Regional competition last year, they didn't use a barbell at all.

The difference is, we are using 2 Dumbbells at once today, so get some good reps in ahead of time to practice, and then go HARD!! Remember, this is a burner and you should feel it!!
Thursday, March 1st 2018


Warm Up:
1 min Air Bike
1 min row
1 min 5 push ups, 5 squats, 5 sit ups
1 min Stretch/Rest
2x
Strength: Back Squat 5-5-5-5-5
WOD: Complete as many rounds as possible in 5 mins of:
15/20 Calories, Air Bikes
10 Dumbbell Push Press, 50/35 lbs