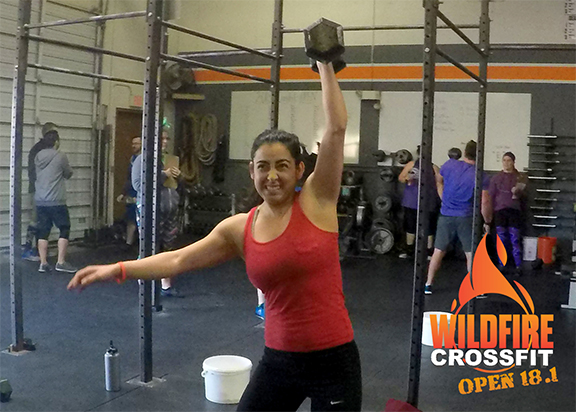 What an awesome start to the 2018 Open Competition!
When you walked into the gym you could feel the energy and excitement.
With almost 100 WildFire athletes participating in the Open this year, we had over 70 of them getting ready to compete in the Main Event on Saturday.
Athletes were wearing their Team colors of Red, Blue, Green, and Purple as they warmed up and got ready to go.
The CrossFit Open veterans did a great job of helping the newcomers get ready and know what to expect as the first heats got started.
We are very proud to have so many athletes participating this year, and many of you are not only new to the Open, you just got started with CrossFit! It shows how much the members of the WildFire Community support each other to be their very best!

MORE PHOTOS HERE
Everyone did an incredible job of keeping the energy up and the cheering going throughout the entire 20-minute AMRAP and for all 7 Heats!
With such a large group of athletes participating, we needed all the judges we could get, and we really appreciate everyone who stepped up to help out. From taking pictures to judging and collecting score cards, it shows what an amazing Community we have, the way everyone worked together to keep things going.
The workout consisted of as many rounds as possible in 20 minutes of 8 Toes to Bar, 10 Dumbbell Hang Clean & Jerk (5 Each Arm) and a Calorie Row, 14 for Men & 12 for Women.
It was a classic CrossFit workout with a gymnastics skill in the Toes to Bar, strength in the Dumbbell Clean & Jerk (Shoulders to Overhead), and endurance in the Calorie Row.
Every single athlete did outstanding and kept grinding away for the entire 20 minutes.
Thanks to everyone who helped make the first week run as smoothly as possible!
We will be excited to see what the next workout will be, which will be announced this Thursday, March 1st at 6pm Arizona time. I would be surprised if it was another long one like this, however, you never know what Dave Castro has planned for us.
Be sure to get your scores submitted and get some good training in this week.