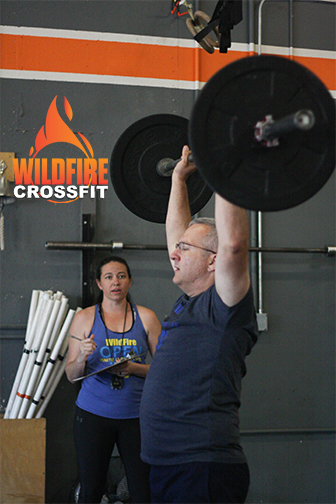 This Thursday at 5pm, The 2018 Reebok CrossFit Games Open officially begins!
Dave Castro and the crew at CrossFit HQ will make the live announcement from one of the thousands of local affiliates across the world.
At WildFire CrossFit, we will hold the "Main Event" on Saturday, February 24th 2018. We will have additional times available to do The Open on Friday, Sunday and Monday.
We will have a Sign-Up Sheet in the gym where you MUST sign up each week in order to participate. Please be sure to do this so we can plan heats ahead of time and know how many judges we will need.
Due to the large amount of people we have participating this year, we could use some help judging. There is an online course that and a quiz you must take to be a certified judge. It doesn't take very long and it's a great way to learn more about the standards of each exercise. All Rx athletes must have a certified judge on order for us to validate their score.
CLICK HERE to take the online judges course along with many other courses that will further your development and knowledge as an athlete.
Today at WildFire….
For Strength, we are doing a complex of a Clean into 2 Front Squats.
While we have never seen Front Squats in The Open, it's a great exercise to build strength and power for other exercises, such as the Thruster that we are likely to see.
In this format, we are going to develop more wrist mobility and strength that is needed do so many of the exercises we do, such as the Overhead Squat and the Snatch, which we will see later this week.
The Workout….
Today's workout is simple. CrossFit is built on simple workouts such as these that test both Strength & Endurance and this one has both.
This is also a GREAT example of an Open WOD, so get your week started right and get into WildFire CrossFit.
Monday, February 19th, 2018


Warm Up: 500 M Row
Mobility
Strength: Complex
1 Clean + 2 Front Squats = 1 rep
1-1-1-1-1-1


WOD:
3 Rounds For Time:
15 Thrusters 115/75#
400m Run
Rx+ 135/95
Scaled 95/65
Burn Dumbbell Thrusters: 35/20
Tuesday, February 20th 2018


Warm Up:
400m Run
10 Push Ups
10 V-ups
10 Jumping squats
2x (including the run)
Strength: Every 1 min for 15 mins, alternating between:
3 Strict Pull-ups
3 Chin-ups
3 Strict Ring Dips
WOD: For Time
50 Box Jumps 24/20
50 Kettlebell Swings, 53/35 lbs
50 Toes-to-bars
50 Dumbbell Snatches, 50/35 lbs
50 Air Squats
Wednesday, February 21st 2018


Warm Up:
30 Double Unders Or 30 Singles
10 Deep Lunges
10 Good Mornings
10 Glute bridges
2x then:


Line Drills
Straight leg kicks
Donkey Kicks
Inch Worms
Burpee broad jumps
Strength: Deadlift
7-7-5-5-3-3-3


WOD:
For Time (this is a sprint)
10 Deadlifts 1.5 Bodyweight
20 Lateral Bar over Burpees
30 Double Unders
Rx + is 2x Bodyweight & Unbroken Double Unders
Burn is KB DL & Singles
Thursday, February 22nd 2018


Warm Up:
Agility Ladder Drills
Bear Crawl Plate Push


Strength:
5 sets not for time of:
20 V-Ups
15 Tuck Crunches
20 Second Hollow Hold
20 Second Arch Hold


In between work pistol progressions:
5 narrow squats
3 each leg single leg squats to a box
3 each leg holding on to the rig
3 each leg holding onto a plate or using a band
WOD:
2x 10 Min AMRAP
5 Pull-ups
10 Alternating Pistols
Medicine Ball Run, 20/14 lbs, 100 m
10 Push Up (Medicine Ball) Single Arms
5 Dumbbell Hang Power Cleans, 50/35 lbs
Rest 3 mins between each cycle.
For each cycle restart the AMRAP.
Friday, February 23rd 2018

Warm Up:
Row/Run Intervals:
250 m row then a 200 m run
10 PVC pull overs
10 Overhead squats
3 rounds


Rope Climb technique


Burgener Snatch Warm Up:


Strength: Complex
1 Behind the neck Push Press – 1 Snatch Balance- 1 Overhead Squat =1
3-3-3-3-3


WOD:
12min AMRAP
10 Snatch 115#/75#
2 Rope Climbs
Scale: Pull from the ground
Snatch at 95/65
Burn: Plate Ground to Overhead 45#/25#