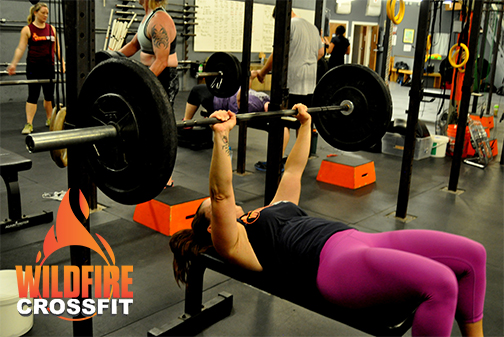 Let the Countdown commence!
With less than two weeks till the CrossFit Games Open starts, things are heating up at Wildfire CrossFit!

With Teams building up, the in-house competition will be fierce!

Each team right now has roughly 21 athletes, with all ranges of skills and talent. Joining a team might be the easiest part.

The CrossFit Open is a fine test of your abilities against others in the gym, across the world, and, most importantly…YOURSELF!!
As the years go and experience is built you will challenge yourself to new obstacles that possible, a year ago, you didn't think was possible!
The best part is that your team will be cheering you on the whole way!
We have a lot of great workouts planned between now and the open including several skills you will get to work on.
So get into WildFire CrossFit and get signed up for Open so that you can participate in all the FUN!!
Tuesday, February 13th 2018
Warm Up: 400 m Run
10 sec each side Calf stretch
10 Deep Lunge
20 push ups to 5 sec top of push up plank hold each rep


3 sets of 5 wall balls increasing weight and/or height each set


3 min Double Under Practice
*If you have Double Unders, do 3 sets max effort
Strength: Bench Press & DB Bent Over Row alternating sets
Bench Press 5-5-5-5-5
DB Bent Over Row 5-5-5-5-5


WOD: Tabata
Cal Row
Double Unders
Wall Balls
Wednesday, February 14th 2018


Warm Up: 30 sec of each
Jumping Jacks
Mountain Climbers
Lateral Jumps
Squats
Burpees
Flutter Kicks
2x
Barbell Warm Up:
5 Sumo Deadlift High Pull
5 Clean Deadlift to top of the knees
5 top of the knees to hips (power position) *focus on the torso moving over the hips
5 Down & Up hips and shoulder shrug
5 Elbows High & outside
5 Power Cleans
5 Front Squats
5 Push Press
5 Push Jerk
2x
WOD: For Time
21-15-9
Power Cleans 135/95
Pull Ups
15-12-9
Push Jerk
Chest to Bar Pull Ups
12-9-6
Sumo Deadlift High Pull
Bar Muscle Up
Thursday, February 15th 2018


Warm up:
Rowing Drills


Strength: Deficit Deadlifts
5-5-5-5-5


WOD:
12 min AMRAP
300m Run
20 Box Jump Overs
10 Hand release push-up
Friday, February 16th 2018


Warm Up:
3 min Jump Rope


Mobility: Stretch, calves, hips, quads, hamstrings, no more than 30 sec each
5 Strict Toes 2 Bar
2 Shuttle runs
5 Kip swings
2 Shuttle Runs
5 Knees to elbows
2 Shuttle Runs
5 kipping toes 2 bar
2 Shuttle Runs
Strength:
Front Squat 5-5-5-5-5
WOD: 4 Rounds For Time
15 Cal Row
10 Toes 2 Bar
15 Dumbbell Front Squats
20 Double Unders