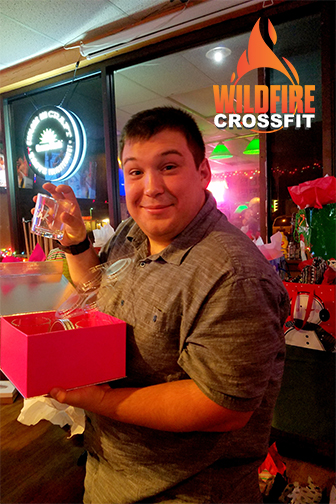 It's always awesome to see athletes accomplish their goals. For some, it's about hitting a number on the scale, for others it's a certain weight on a lift or time on a WOD. It's awesome to see athletes do something with their fitness and this weekend, there were plenty of opportunities.
Spartan Race this weekend…
The Spartan Race was in town, and as usual, we had several athletes participate. Congratulations to everyone who took on the challenge. We hope you had a blast getting down and dirty and taking on all the obstacles they threw at you!

The Spartan Race format has grown in popularity at about the same rate as CrossFit.
Hmmmm.
Makes sense, since everything we do in CrossFit will help you get better in all the areas that a Spartan Race requires. Just like in CrossFit, athletes use all 10 areas of fitness. Skills such as Endurance, Strength, Speed, Agility, Coordination, and Balance are the first that come to mind. Even things like Power, Flexibility, Stamina, and Accuracy come up in most obstacle course events.
If you haven't had a chance to participate in an event like this, they are a lot of fun! We are so proud of all the athletes who took on the challenge over the weekend!

Great Job Rob & Tara E., Jeremy S., Tyson R. & Austin B. for making their fitness count at Spartan this weekend, and to Natalie M. who took on Ragnar, a 200 Mile Running Relay event!

You guys all put in a lot of hard work and we are proud of you for taking on the challenge!

Jeremy told me he took 16-minutes off his time from last year and was able to complete way more of the obstacles. His hard work has paid off and I know he is excited to keep it going!
Participating in an obstacle course event like this is an awesome goal and they are a lot of FUN!
Goals like this are great and really allow athletes to put a "why" behind their hard work.
Some athletes have more riding on their fitness, especially when their goals are tied to their profession.


When the test is for real…
Over the years, we have had the opportunity to help several people get ready for the physical tests they are required to pass for the military, and for police and fire departments. It's more than just a goal or a hobby, it's their career and even their life that is at stake.
In the 5+ months since Cody moved to AZ and joined WildFire, he has been on a mission to get in shape, specifically, for a career in law enforcement. In addition to crushing it in class (we all marveled at how easy he made a 400+ lb. back squat look) he has been doing a lot of addition endurance and skill work outside of class. He has been disciplined, he has worked his tail off, and this weekend it paid off when he passed his physical test!
Congratulations Cody! We are SO proud all your hard work and everything you have achieved, and we know the best is yet to come still!
On Thursday, Cody was at the gym and we were talking about the 300M Sprint he had to complete in under a minute. We decided to lay it out exactly around the building, complete with tree branches in the way, some bumps and turns, and that nasty hill at the ¾ mark as you come into the parking lot.
His time was a little off the mark at 1:06. He didn't let that phase him, and on Saturday morning, he made it in under the 1-minutes time cap. GREAT JOB CODY!
It's stuff like this that really makes what we do special. We get to help people achieve their goals, and often, that leads to them living their dreams!

Today at WildFire…
Today we are going to be practicing a sought-after skill of many athletes, the handstand walk.
Sure, you may have just learned how to kick up on the wall, and now we are taking it away. It's all good. We don't expect everything to just jump up on their hands and start walking around like Nastia Liuken (a gold medal gymnast for those who don't know).
We are going to work on a few progressions that will help you develop skills such as balance, agility, and coordination that are necessary for exercises such as the handstand walk.
Plus, we are going to be doing some Snatch work, so get into WildFire and get your gymnastics on TODAY!
Monday, February 12th 2018
Today we are going to be doing a partner workout. After completing a 100ft Handstand Walk, you will work through a total of 100 Snatches for time. Every time you switch, you will complete 5 Synchronized Burpees.
There will be options for all skill levels.


Rx+ WOD:
With a Partner
For time
Handstand Walk, 100 ft
100 Squat Snatches, 115/75 lbs
5 Synchronized Burpees Over Bars
Rx WOD:
For time
Partner Wheelbarrow, 100 ft
100 Squat Snatches, 95/65 lbs
5 Synchronized Burpees

Scaled WOD:
For time:
Bear Crawl, 100 ft
100 Overhead Squat (Bumper Plate)s, 45/25 lbs
5 Synchronized Burpees