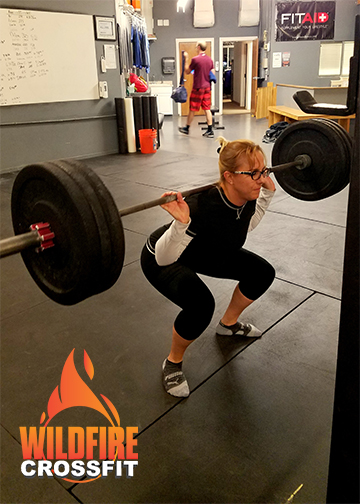 Today at WildFire CrossFit we've got back squats.
This is one strength exercise, everyone should do each week. Not only for it's ability to help you build strength and stibility throughout the body, also because it increases production of our natural growth hormone.
No, that doesn't mean you should start Back Squatting daily, although, I've seen athletes do that and it's not pretty after a couple weeks.
Consistency is the key and once or twice each week (one of them heavy) is very beneficial.
Today, we are going heavy!
We are starting with higher volume to help get the legs warmed up. With sets of 3 you can work on going heavy, as long as your form is on point and you are getting deep enough.
Never sacrifice form or depth for weight. Ever.
For the workout, this is a burner. We took the bench mark workout, "Annie", and changed the sit ups to push ups.
Because we wanted this to be a faster workout (under 10 minutes), we cut the number in half. So instead of doing 50, 40, 30, 20, & 10, we are doing 25, 20, 15, 10, & 5.
This is a great workout to really practice double unders, even if you are just doing a few after every 10 singles.
Tuesday, January 30th 2018


Warm Up: 3 min Jump Rope
-Then-
10 Deep Lunges
30 sec each calf stretch (plates on rig)
10 ring rows
10 Plank Shoulder taps
30 Singles
20 Doubles (or Virtual Doubles)
4x
Strength:
Back Squat 7-7-5-5-3-3-3


WOD: For Time
Double Unders 50-40-30-20-10
Push Ups 25-20-15-10-5