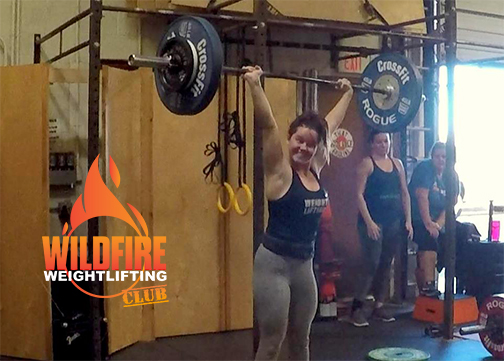 This weekend at WildFire CrossFit we had our first, in-house, Olympic Lifting Meet brought to you by the WildFire Weightlifting Club.
It was a GREAT event and a LOT of FUN!
The format of a Weightlifting Meet is much different from a CrossFit Competition.
There's no music blaring so that the athletes can focus on their lifts which changes the energy level dramatically. There's a very specific format with time limits between lifts. And, as an athlete, you are on the platform alone instead of going in heats with several other competitors.
Plus, there is a difference in standards from what we are used to in Class and in typical CrossFit Competitions. The main one is that athletes must lock out at the top vs being able to press out.
Olympic Lifting Coaches Chris & Jamie did a great job getting these athletes ready and they did awesome!
Check out all this Great lifts performed by these athletes on You Tube - CLICK HERE
Thanks to all the Athletes who participated in this event! We will be doing another Meet like this soon and we would like to have even more athletes compete.
Thanks to Olympic Lifting Coaches, Jamie & Chris for organizing this event. It ran smoothly, and everyone knew when they were lifting.
Thanks to all the volunteers who made this event run smoothly and kept it fun! Coach Gary did a GREAT job as the announcer. He kept it light and made it a lot of fun! Thanks to Brenda, Christina C., Tiffany C. & Chris Kern for keeping the barbell loaded properly and quickly. Thanks to Joanna for keeping track of the athletes and their weights.
And a HUGE THANKS to all of the WildFire Members and their families who came out to participate, watch, and really make this event a lot of fun!!
Stay tuned for other great events like this from WildFire CrossFit!!
TODAY at WildFire…
We are going to be working on some Dumbbell Bench Press and then the main objective of the day is the workout.
Today's workout is For Time, and since we are starting each round with a run, you will need to find the right pace so you are able to get right in and get to work on your Handstand Push Ups, Goblet Squats, and Sit Ups.
The reps are small enough that you should be able to stay unbroken throughout the entire workout.
For the Handstand Push Ups, we want you to challenge yourself. For example, if you know you can them out quickly by kipping, then today, do them strict, or use plates or parallettes to make them a deficit.
You never know what is going to come up in the Open, so this is the time to practice, challenge yourself, and really see what you can do.
We have a lot planned for the week ahead and you can see all the programming we have in store for you by CLICKING HERE
Monday, January 29th 2018
Warm Up: 200 m Run
10 push ups
30 sec Handstand hold
10 Squats
30 sec Squat hold
10 sit ups
30 sec Hollow Hold
2x including the run
Shoulder warm up with the 2.5 or 5 # weights:
5x each of raise arms in front to shoulder height,
raise arms out to the side
slow arm circles small
med large backwards
same for forwards
shoulder press
Strength: Dumbbell Bench Press
10-10-10-10-10
WOD: 5 rounds for time of:
Run, 400 m
5 Handstand Push-ups
10 Goblet Squats, 53/35 lbs
15 AbMat Sit-ups