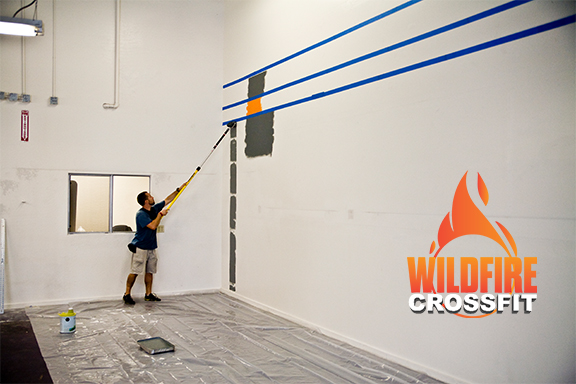 We are going to be doing some upgrades to the Gym over the next couple week. Painting, flooring, and even some new equipment.

We painted the entrance this weekend and the new flooring will be installed this week. Then, over the next few weekends we will re-paint the walls in the gym, re-epoxy the floors in the waiting area, and even re-doing the kids area.
We are excited to add a little shine to WildFire, so please, pardon our mess.

This will not effect any of our classes and we will do as much of the work as possible, outside of gym hours.
We have another great week of programming for you. So get in and get ready for some FUN!


Monday, January 22nd 2018
Warm Up: 200m run
Shoulder warm up


Good mornings
Squats
Deep lunges

Muscle up technique progressions 5-10min

Deadlift warm up 5 min


Strength: 20 Minute Alternating EMOM
5 Sumo Deadlifts
3 Ring Muscle Ups or Bar Muscle Ups or Strict Pull up

WOD: For time
10-1 Burpee Box Jumps 24/20
1-10 Toes 2 Bar
Weightlifting:

Snatch: 6 x 2 at 75% 1RM

Snatch 6x2 at 75% 1RM

Inferno:
5 Rounds For Time of
5 Back Squat 70% of 1 Rep Max
10 Cal Row
2 Min Rest
Tuesday, January 23rd 2018


Warm Up: Line Drills – Jog Back
Quad Stretch (Step and pull ankle to butt)
Knee to Chest (step and hug knee to chest)
Side Lunge
Straight leg kicks
Broad Jumps
Walking Spiderman


Strength: Squat Clean
5-5-5-5-5


WOD: 20 min AMRAP
10 Kettlebell Clean & Jerks (single arm alternating) 53/35
20 Pistols (alternating, each leg = one)
200 m run
Wednesday, January 24th 2018


Warm Up: 400m Run
10 push ups
10 squats
10 sit ups
2x


Gymnastics warm ups:
Tripod hold
Ring support hold
Bar hang
Handstand hold
30 sec at each station for 2-3 rounds


Strength: Complex Of:
5 HSPU - 5 Ring Dips - 3 Rope Climbs = 1 Round
Handstand Push-up 5-5-5-5-5
Ring Dip 5-5-5-5-5
Rope Climb 3-3-3-3-3

WOD: "Helen"
3 Rounds For Time of
400m Run
21 Kettlebell Swings 53/35
12 Pull Ups
Thursday, January 25th 2018


Warm Up: 5 min Jump Rope
2 rounds of
10 Deep lunges
10 Calf raises with arm circles
10 Down Dog/up dog
Double Under practice


Barbell Warm Up:
5 dead lifts
5 high pulls
5 cleans
5 front squats
5 presses
5 push presses
5 push jerks
Strength/Skill:
4x 250 row
4x 200 run


WOD: 5 Rounds For Time of:
5 Deadlifts, 185/115 lbs
3 Hang Power Cleans, 185/115 lbs
2 Push Jerks, 185/115 lbs
50 Double Unders
Friday, January 26th 2018


Warm Up: Rowing Drills
150m Legs only
150m Core only
150m Arms only
Squat therapy: 5-10 of each
Facing the wall
Back against the wall
PVC against the rig


Strength: Overhead Squats
5-5-5-5-5


WOD: 4 Rounds - Each for time
500m Row
10 OHS 155/105
3+ Min Rest Between Each Round