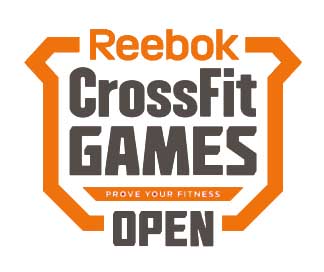 We talk a lot about competition at WildFire CrossFit. CrossFit was founded on it and it's popularity as a method of fitness skyrocketed with the introduction of the CrossFit Games in 2007. Every day, we score our workouts and we ring the bell every time we get a PR.
So, is competition important?
Yes it is, as long as the main person you are competing with is yourself. That's really the point of what makes CrossFit so special. Constantly challenging yourself to be better. Not only better physically, or as athlete, it challenges us to be better human beings.
Whether you know it or not, you inspire others to be better too, and while that might not always translate into following you into the gym, how many people start a fitness program or eat better because they see the positive impact CrossFit and Fitness has on your life.
The CrossFit Open is fast approaching and for 5 weeks, we get to step up and challenge ourselves to be the best we can be. We get to lift our fellow community members up and cheer them on to go harder, faster, and do their best.
And the most important point of all…it's got to be FUN!
One of our athletes and Coaches recently got a chance to experience the competitive side of CrossFit on probably the largest stage available outside of the CrossFit Games. Coach Gary competed for his second year in a row at the 2018 Wodapalooza (WZA) competition in Miami Florida.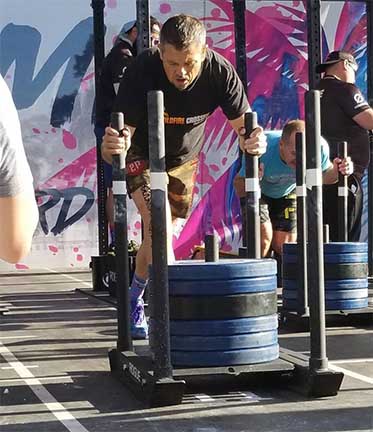 He got to experience CrossFit on a large scale, with workouts that were designed to challenge some of the best athletes in the world. To name a few, athletes such as Garret Fisher, Kari Pearce, and even 2-time CrossFit Games Champion, Katrin Davidsdottir competed in the Elite Division of the 2018 Wodapalooza Fitness Festival.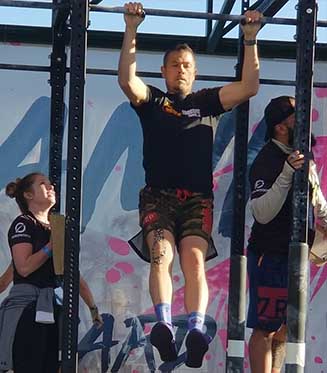 According to Gary, his favorite event was the "Strong Swim". It consisted of 2 Rounds For Time of a 200M Ocean Swim (that was more like 300M once the buoys started floating away), 100 Air Squats, 10 100# Sandbag Cleans, and a 50M Sandbag Bear Hug Carry.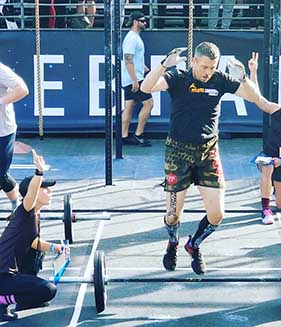 Coach Gary and his wife, Adrienne have been doing CrossFit for 3 short years, and they both consistently show in class, ready to give it their best, and both challenge and inspire others to do the same.
Gary is on a mission to be the best athlete he can be, and in addition to Class at WildFire, he does extra work to build strength and improve on his skills. He is constantly looking for ways to improve and the best part of all of it….he has a blast doing it!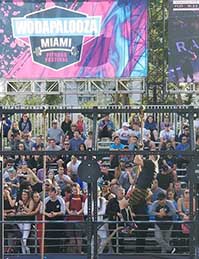 Congratulations Coach Gary on competing and taking on the challenge of the 2018 Wodapalooza Fitness Festival! Your persistence and discipline is an inspiration to so many others. I can't wait to see what you achieve as you continue to progress in the sport of Fitness!
Another athlete who deserves a huge Congratulations is Sheila Beals, who proved that age is just a number by taking on her first half marathon this past Sunday at the P.F. Rock N Roll Half Marathon in Tempe, AZ.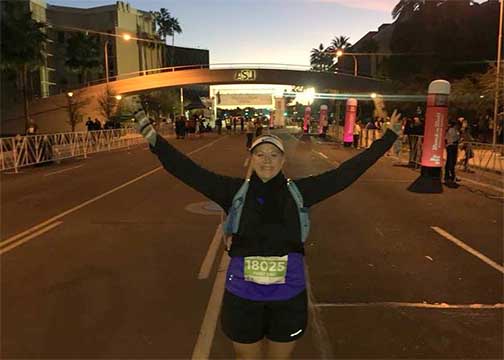 Just take a class with her and you will see that Sheila has a blast with what she does. She has fun with the training. She works hard at it. And she surrounds herself with positive people who push her to be her best People like her training partner, Brittany Carrol and her husband Bob, both WildFire Athletes who are there to cheer her on when she needs it.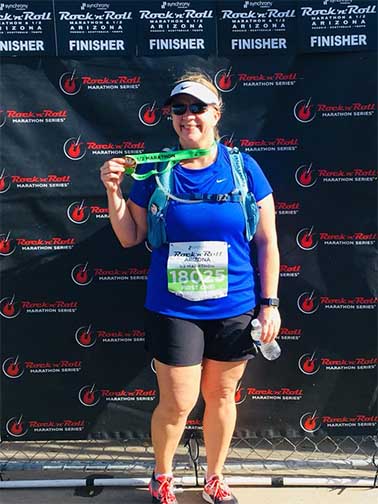 Congratulations Sheila on an incredible accomplishment. That finish line and that big smile make all the hard work training totally worth it! Thanks for continuing to inspire so many others to get outside their comfort zone and make life FUN!!
Let Gary and Sheila be a source of inspiration for you! Take on the challenge of the Open where you will get to experience the foundation of what CrossFit was built on. Remember, it's not about where you finish, it's about showing up and knowing that you did your very best. Oh yeah, having your fellow Community members cheering you on and being able to cheer them on makes it all worth it.
Find out more about the 2018 CrossFit Games Open Competition at WildFire CrossFit during our first Open-Prep workshop, tomorrow, (Saturday, January 20th) at 10am. There are divisions for every skill level, so there's no excuse. Get ready for some Fun with your WildFire Family!!