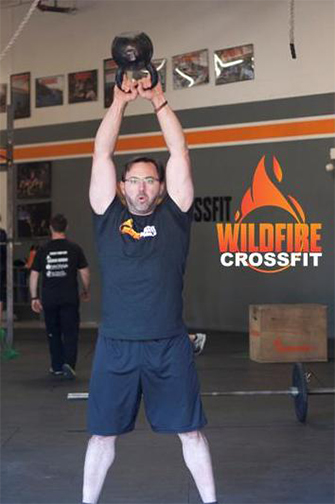 Events: THIS WEEKEND – Saturday, January 20th at 10am will be the first edition of the Open Prep workshop. We will begin with a Q & A on the 2018 CrossFit Games Open Competition, and then we will work on some specific skills we expect to see in the Open and finish with a specific Open Prep workout.

It's been a whole since I've been hit with the flu bug, and while it seems like it goes around every year during the winter months, this year's flu has been extra vicious.

Being in good physical condition and eating healthy isn't necessarily a shield against getting sick, however, it sure will help you recover and feel better faster.
We have been taking extra precautions at WildFire by keeping things clean and wiping down the equipment a couple times a day. You can do your part too by wiping down any equipment you use with the Clorox wipes which are designed to kill the flu virus among other things.
We are going to get back on track today by giving you the programming for the rest of the week. We will continue to post the programming for the week on Monday.

Today at WildFire CrossFit…

We talk a lot about "full-body exercises" because performing these types of exercises is a much more efficient way to get fit.
When performed properly, the Kettlebell swing works everything from your shoulders on down, helping to develop the posterior chain.

The Kettlebell swing will help us generate power through the core and hips which is extremely useful when we apply it to everything from the kipping pull-up to our Olympic Lifts.
The workout….
After two couplets in a row, today we are doing a Chipper. A Chipper is a workout with 4 or more exercises.
Between the running, rowing and 6 other exercises, this will be a longer workout. Therefore, it's important to find a pace and stick with it.

Because of the variety of exercises, this is a great Open-Prep workout. So dig in, work hard, and have FUN!

Wednesday, January 17th, 2018

Warm Up: 250m Row/ 200m Run Partnered
Plank hold-
Hollow hold
Squat at parallel hold
Handstand hold
Total of 4 rounds

Strength: Heavy KettleBell swings ( Russian) 5-5-5
RX+ Single Arm alt. Heavy KB Swings


Really working on athletes focusing on explosive hips to drive a heavier kettlebell up to shoulder height. Building stronger posterior chain.


WOD: For time:
10 Row Calories
20 Hand Release Push-Ups
Run, 300 m
40 Kettlebell Swings, 53/35 lbs
50 Sit-ups
Run, 600 m
70 Wall Balls, 20/14 lbs
80 Double Unders
Run, 900 m
Thursday, January 18th, 2018


Warm Up:
20 Sec Jumping Jacks
20 sec squats
20 Sec Jumping Jacks
20 Sec Plank Hold
20 Sec Jumping Jacks
20 Sec Lunges
2-3x
Strength: Front Squat
10 at 50% 1RM
10 at 50% 1RM
8 at 60% 1RM
8 at 60% 1RM
4 at 70% 1RM
4 at 70% 1RM
2 at 80% 1RM
2 at 80% 1RM
WOD: 10 Min AMRAP
21 Front Rack Lunges, 95/65 lbs
12 Sumo Deadlift High-pulls 95/65 lbs
6 Toes-to-bars
Friday, January 19th, 2018


Warm Up:
500m row
-then-
10 good mornings
10 Inch worms
10 push ups
5 Burpees
2-3x


Strength: Deadlift
2 at 30% 1RM
2 at 40% 1RM
2 at 50% 1RM
2 at 60% 1RM
2 at 60% 1RM


WOD:
Tabata Deadlift, 225/155 lbs
Tabata Wall Ball, 20/14 lbs
Tabata Lateral Bar Jump
Rest 5 mins
Tabata Power Clean, 225/155 lbs
Tabata Push-up (medicine ball), 20/14 lbs
Tabata Lateral Bar Jump