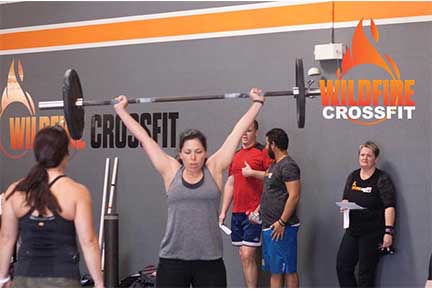 CrossFit Games Open Briefing, THIS Saturday, January 20th at 10am
This Saturday we are going to be holding a briefing explaining everything you need to know about the 2018 CrossFit Games Open Competition at WildFire CrossFit.
We will be explaining how it works and who can participate as well as how to prepare for the Open. Directly after the briefing we will be working on specific skills to get prepared for the Open.
Then, join us for Throwdown Class, every Saturday at 10am as we get you prepared and ready to take on the CrossFit Games Open by working on the skills and workouts we are likely to see.
Whether you are planning to participate in the Open, or would just like to help judge, all are welcome to participate in this event.
Coach Erin wrote THIS article explaining how we are going to be running the Open this year at WildFire CrossFit.
The Open is a lot of fun and a great way to challenge yourself and put all your hard work to the test.
Monday, January 15th 2018

Burgener Snatch Warm Up
Strength:
Hang Squat Snatch 3-3-3
WOD:

Open WOD 17.3 Rx
Prior to 8 mins, do:
3 rounds of:
6 Chest-to-bar Pull-ups
6 Squat Snatches, 95/65 lbs
-- then --
3 rounds of:
7 Chest-to-bar Pull-ups
5 Squat Snatches, 135/95 lbs
* Prior to 12 mins, do:
3 rounds of:
8 Chest-to-bar Pull-ups
4 Squat Snatches, 185/135 lbs
* Prior to 16 mins, do:
3 rounds of:
9 Chest-to-bar Pull-ups
3 Squat Snatches, 225/155 lbs
* Prior to 20 mins, do:
3 rounds of:
10 Chest-to-bar Pull-ups
2 Squat Snatches, 245/175 lbs
* Prior to 24 mins, do:
3 rounds of:
11 Chest-to-bar Pull-ups
1 Squat Snatch, 265/185 lbs

* If all reps are completed, time cap extends by 4 mins


Open WOD 17.3 Scaled
Prior to 8 mins, do:
3 rounds of:
6 Jumping Pull-ups
6 Squat Snatches, 45/35 lbs
-- then --
3 rounds of:
7 Jumping Pull-ups
5 Squat Snatches, 75/55 lbs
* Prior to 12 mins, do:
3 rounds of:
8 Jumping Pull-ups
4 Squat Snatches, 95/65 lbs
* Prior to 16 mins, do:
3 rounds of:
9 Jumping Pull-ups
3 Squat Snatches, 115/75 lbs
* Prior to 20 mins, do:
3 rounds of:
10 Jumping Pull-ups
2 Squat Snatches, 135/95 lbs
* Prior to 24 mins, do:
3 rounds of:
11 Jumping Pull-ups
1 Squat Snatch, 155/105 lbs
* If all reps are completed, time cap extends by 4 mins
Weightlifting:

Clean & Jerk 2-2-2-2-2-2
Front Squat 5-5-5-5-5
Inferno:
20 Cal Row
3 Rope Climbs
20 Pistols (Alternating – 10 Each Leg)
X 3 Rounds For Time