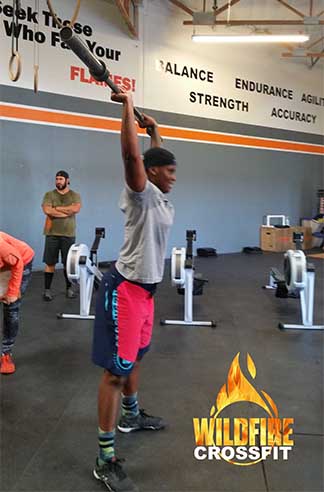 The Holidays are officially over and 2018 is in full effect!
Stay current on everything happening at WildFire CrossFit so you can be your best in 2018!
Olympic Lifting Intro – Saturday, January 13th at 11:15am
This Intro seminar will take you through the basics of the competition lifts to teach the form and technique necessary to perform the Clean & Jerk and Snatch safely, efficiently, and effectively.
Once you go through this seminar you will be ready for the Specialty Class every Tuesday at 7pm and Saturday at 11:15am.


Goal Setting/Coaching Feedback – Set yours today
Over the past few weeks we have been sitting down with athletes and talking about their goals. We have been able to give a lot of great feedback.
The beauty of fitness is that everyone has something different that they want to achieve, and everyone has different strength and weaknesses they need to work on.
The one thing everyone has in common is their desire to continually get better, and we are here to help!
CLICK HERE to set up your goal setting & planning session with a Coach today.


New Nutrition Programs
Nutrition has always been a big part of what we do. In fact, Coach Tiffany was a successful nutritionist long before she started Coaching CrossFit. She even had the opportunity to learn directly from "The Paleo Solution" author, Robb Wolf at one of the last Nutrition Certifications CrossFit HQ ever offered.
We've talked about it before, no matter how much you work out, if you eat like crap, you are never going to reach your potential.
For some, it's about weight loss, for others, performance. Some people just need to tighten some things up and others need a major overhaul.
The fact is, when it comes to nutrition, everyone is a little bit different. Whatever our needs are, we all need accountability and support to get our nutrition on track.
This week, we will be announcing the Nutrition Program at WildFire CrossFit so stay tuned for all the details on these exciting new programs with our newly formed Nutrition Team!


The Open is coming!
Open Prep: Saturday, January 20th and Saturday February 10th at 10am
That's right, it's time to get ready for the CrossFit Games Open Competition. This year, we are going to kick it off with an Open-Prep Event to answer questions, explain how to prepare, and go through workouts and skills to work on.
Today's workout….
Today's workout really begins in the warm up,
During the warm up, work to really get something out of it.
Focus on keeping your core tight throughout the wall balls, especially during the first two rounds when you are pausing in the bottom.
Your depth should be just below parallel. There is such a thing as too low and we will feel that when we lose our core stability.
On the final set, when you go all out, focus on keeping the ball in the rack position the entire set of 10.
Thruster are the strength today and what a great way to start the week. This compound exercise combines the Front Squat and Push Press to build explosive power because it works everything!
That core stability we had you focus on during the Wall Balls will be felt here.
In sets of 5, you can get heavy, just work on staying on your heels and keep your elbows up.
For the workout, you have a 400M Run followed by Max Effort Thrusters. Be sure to pace yourself just enough so you can get right in and start ripping out Thrusters.
Monday, January 8th, 2018


Warm Up: 3 Rounds Of
200m run
10 Wall Balls
5 burpees

R1: 3 Sec Pause at bottom & Step Back Burpees
R2: 2-Sec Pause at Bottom & Strict Push Up Burpees
R3: All out – GO-GO-GO!!

Front Rack Stretch
Laying on your chest, place our elbows out in front, arms bent at 90 degrees. The goal is to close the gap between the armpits and the floor, which will stretch the lats, shoulders, and triceps.


Strength:
Thruster 5-5-5-5-5
Use the heaviest weight you can for each set.
Rest as needed between sets.
Use the rack


WOD:
Rx:
As many reps as possible in 4 mins of:
Run, 400 m Max reps Thrusters in remaining time, 95/65 lbs
*goal is first 27 reps or more unbroken


Scaled:
As many reps as possible in 4 mins of:
Run, 400 m Max Reps Thruster, 75/45 lbs


Burn:
As many reps in 4 mins as you can of:
Run, 400 m Wall Ball, 20/14 lbs

Weightlifting:

Hang Snatch + Snatch : 2-2-2-1-1-1-1-1


Shoulder Press 3-3-3-3-3

Front Squat 3-3-3-3-3

Inferno:

3 Sets Of
20 Cal Row
50 Ft Handstand Walk
12 Dumbbell Snatch 60/40
Each Round is for time. Rest as needed between rounds.
Ring L-Sit – 4 x Max Effort
Tuesday, Janurary 9th, 2018


Warm Up:
1 min of Jump Rope
10 Straight Legged Sit Ups
8 Push Ups
6 V-ups
30 sec hold at the top of the v-up
3 Rounds


Strength: Double Kb Farmers Carry 400 m
Perform at 100% effort


WOD:
For 5 cycles:
AMRAP in 3 mins of:
4 Single Leg Kettlebell Deadlifts, 53/35 lbs
6 Toes-to-bars
8 Kettlebell Swings, 53/35 lbs
Rest 1 min between each cycle.
For each cycle restart the AMRAP
Wednesday, January 10th, 2018+
Warm Up:
500 m row/400 m run
Then
Partner Up
Partner 1 does 3 med ball cleans then toss to partner
Partner 2 must complete 3 push-ups while the other partner is doing the 3 medball cleans
then together 10 total medball sit ups tossing ball to partner ball must go over head for a shoulder stretch.
Do 2-3 rounds
Strength:
Hang Power Clean 3-3-3-3-3
WOD:


RX+
"Nasty Girls"
3 rounds for time of:
50 Air Squats
7 Muscle Ups
10 Hang Power Cleans, 135/95 lbs


RX
"Slightly Less Nasty Girls"
3 RFT: Air Squats, Bar Muscle Ups and Hang Power Cleans
3 rounds for time of:
50 Air Squats
7 Bar Muscle Ups
10 Hang Power Cleans, 135/95 lbs


Scaled:
3 RFT: Air Squats, Pull-ups and Hang Power Cleans
3 rounds for time of:
50 Air Squats
7 Pull-ups
10 Hang Power Cleans, 95/65 lbs


Burn:
3RFT: Air Squats, Ring Rows and Med Ball Cleans
50 Air Squats
7 Ring Rows
10 Med Ball Cleans 20/14


Thursday, January 11th, 2018


Warm Up: Partner
20 Cal Row > Plank To Push Up Push Ups
> Bear Crawl Forward & Back
> Lunge Complex
x 2
Strength: Back Squat
3-3-3-3-3
WOD:
For time:
Run, 800 m
10 Strict Ring Dips
5 Dumbbell men Maker, 50/30 lbs
Run, 400 m
8 Strict Ring Dips
4 Dumbbell men Maker, 50/30 lbs
Run, 200 m
6 Strict Ring Dips
3 Dumbbell men Maker, 50/30 lbs
Row, 250 m
4 Strict Ring Dips
2 Dumbbell men Maker, 50/30 lbs
Row, 500 m
2 Strict Ring Dips
1 Dumbbell Man Maker, 50/30 lbs
Row, 1000 m


Friday, January 12th, 2018
Warm Up:
Jump Rope Drills
Right -Left - Step
1-10 Drill (5 Singles 1 Double – 5 Singles 2 Doubles…to 10)
1 Min Max Pushups
1 Min Max Sit Ups
Strength:
Push Jerk 5-5-5-5-5
Use the heaviest weight you can for each set.
Rest as needed between sets.
WOD:
G.I. Jane
For time:
100 Burpee Pull Ups