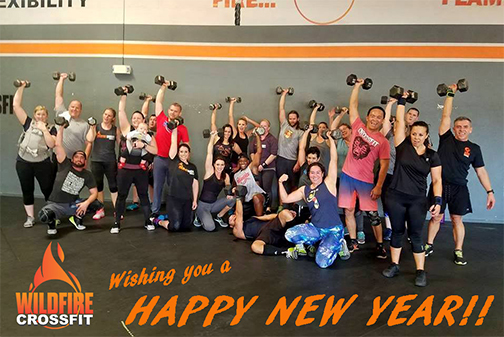 It's a New Year and inevitably, you are going to hear us talk about resolutions, so I might as well get it out of the way from the start.
The good news for a strong majority of the people reading this, since the top 2 New Year's resolutions are getting in shape and eating better, as a member of WildFire, we've got you covered.
Many of you may have started at WildFire because of a resolution.
It's estimated that 50 percent of the U.S. makes resolutions each year and the fact that you are already a part of a Community where people are dedicated towards improving their lives through fitness and nutrition, you are on the right path.
Everyone is different. For some, Resolutions and Goals are crucial for their success. Others hear the "R" word and cringe, often because it brings feeling of guilt and anxiety. Others still have just never taken the time to sit down and focus on what it is they really want.
The good news is, no matter which of the three you are…it's all good!
This week we are going to talk a lot about Resolutions, Setting Goals, and finding areas where we can improve. We are going to give you some tips for success when setting goals and making resolutions. We are also going to give some tips for re-framing how you think about resolutions.
For today, the message: No matter what your past experience, we are here for you!
For help with setting goals or focusing on an area of improvement within the spectrum of fitness, nutrition, and personal growth contact us and we will set up a time to meet.
Text us at: 480-626-0905 with your Name and the best time of day to meet and we will get you scheduled right away so you can hit the ground running.
Stay tuned this week as we continue to post great content and tips so you can have all the success you deserve in 2018!!
For Today…
For strength, we are putting some volume into those Deadlifts to improve stamina.
The whole point is to be able to hold onto the bar the whole time. This will have a dramatic impact on workout such as "Grace" where it is helpful to be able to hold onto the bar for large sets.
For the WOD…
The Death By always starts out pretty boring with a lot of time for rest. And before you know it, you have no time left and you are racing to finish to make it into the next round.
Here's how it works. Much like an EMOM (Every Min on the Min), there is a specific number of reps to be performed in each minute. In a "Death by" workout, every minute, the number of reps goes up, increasing the level of intensity, until you can no longer perform the required amount in the minute.
Focus on going Unbroken with a steady pace on those Wall Balls and conserve your energy as much as possible on the burpees.
Tuesday, January 2nd, 2018
Warm Up:
:20 Seconds
Jumping Jacks
Air Squats
Single Unders
Walk Outs
Single Unders
Good Mornings
Double Under Practice
Sit-ups
3 rounds
Strength: Deadlifts
5x7
40%-50%-60%-60%-60%
WOD:
Death By
1 Wall Ball
1 Burpee
Add 1 Rep Every Minute on the Minute
Wednesday, January 3rd, 2018
Warm Up:
200m run then:
6min AMRAP for the warm up
10 deep lunges with a twist
5 Scap Pull-ups
5 Hollow Rocks
5 Kipping Swings
5 Strict Toes to Bar
30 Sec Handstand Hold
5 Strict Handstand Push Ups or 5 Strict DB press
WOD:
Bulger
10 Rounds for Time
150m Run
7 Chest 2 Bar Pull Ups
7 Front Squats 135/95
7 Handstand Push Ups
Thursday, January 4th, 2018
Warm Up:
Junk Yard Dog Warm Up
Burgener Snatch Warm Up
Strength:
Snatch – OHS
6x2
*1 Snatch + 1 OHS = 1 rep
WOD:
15 Toes 2 Bar
10 Box Jumps
5 Snatch 115/75
3 Rounds for Time
Friday, January 5th, 2018
Warm Up:
Run/Bike/Row/Jump Rope
Team people up in groups of 4
1 person runs 200m while the others are at each of the other stations
when the runner gets back everyone rotates. Do this 2x
Skill/Strength: Rope Climbs
WOD:
FGB Style
1 minute stations 3 Rounds
Cal Row
Ball Slam
Cal Bike
Rope Climb
Sandbag Shuttle Run
Ab Roll Out
REST