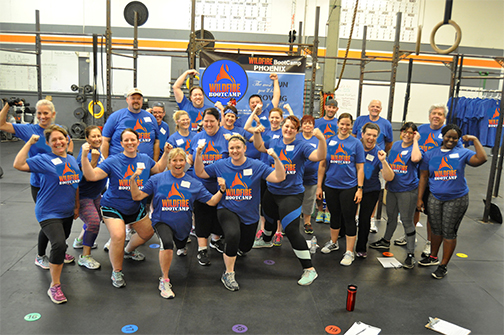 WildFire Boot Camp Kickoff

Tonight, at WildFire at 6:30pm, we are going to be doing the WildFire Boot Camp Kickoff!
We will be doing a FREE workout, and this is a Great opportunity to invite your friends and family to see what the WildFire Boot Camp is all about!
Find out more details HERE on our WildFire Boot Camp Phoenix, Facebook Page.
The Camp officially begins on Saturday, January 6th so be sure to reserve your spot today by calling us at: 480-626-0905
Today at WildFire CrossFit…
Wednesday, December 27th, 2017
Warm Up:
Rowing Drills > Inch Worms > Plank Hold
Rowing Drills > Push Up to Down Dog > Bar Hang
Rowing Drills > Jumping Squats > Squat Hold
Strength:
Back Squat (3 sec pause at bottom)
5-5-5-5-5
Use the heaviest weight you can for each set.
WOD: "Tabata" - Row Calories and Push-ups
5 x 20 secs / 10 secs
Tabata Row Calories
Rest 30 secs
Tabata Push-up
Rest 1 min then:
"Tabata" - Dumbbell Goblet Squats and Double Unders
5 x 20 secs / 10 secs
Tabata Dumbbell Goblet Squat, 50/35 lbs
Rest 30 secs
Tabata Double Under
RX+: HSPU & Back Squat BW/ 3/4BW