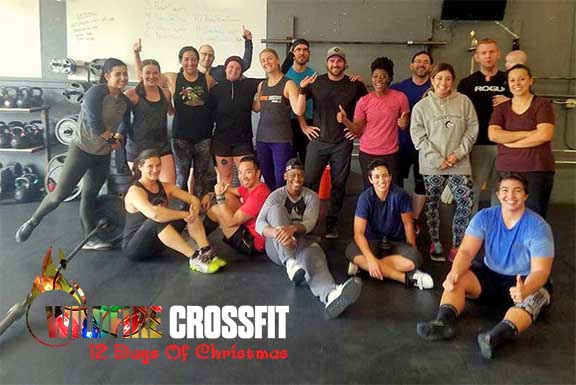 We hope you had a great Holiday because I know we did!

We kicked it off with an incredible Saturday where we got to welcome back some family members for the 12 Days of Christmas workout.

At both 9am and 10am we did a version of the workout and it was a lot of fun!

If you are traveling and want a good one to do with friends and family, and check it out!

I know the Barbell Only Version we did at 10am snuck up on a few people.

Then, Tiff and I got to travel North to Prescott to visit Family. It was a great trip!

We came back on Sunday and added to our family with a new little puppy for Christmas. And when I say little, she's tiny.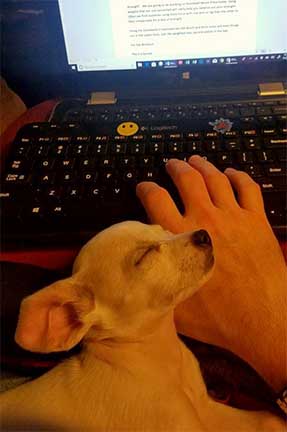 A Chihuahua Mix. We named her Ember Lilly and call her Elly. We had to get the WildFire theme in there somewhere. Yes, this is her, fast asleep as I type this blog.

Then, after video chatting with the little kids in the family to see what new presents they got, we had a nice Christmas dinner with family.
It was everything a holiday should be. And it leaves me very grateful for all the amazing things I have in my life.
An amazing wife, best friend, and business partner who shares my passion of helping people be their best.
Family, some who I get to see regularly and some not a regularly as I like and yet, we stay close no matter how far apart we are.
Family we choose, close friends who are there to support each other no matter what life throws in our way.
An Incredible Business and Community. We are so proud of what we do. That we get to help inspire people to be their best.
It really fills my heart to think of how many people have been positively impacted because of the WildFire Community.
And the best is yet to come! We have been working really hard to figure out what the next 5 years will bring and we are excited about the path we are on!

So Thank You for being a part of the WildFire Community for helping to spread something so positive to so many people who need something positive like this in their lives.
And here's to an incredible 2018, because the best is yet to come and the best way to get there is TOGETHER!!
Today at WildFire…
Strength – We are going to be working on Dumbbell Bench Press today. Using weights that are not connected will really help you balance out your strength. Often we find ourselves using more force with one arm or leg than the other to help compensate for a lack of strength.
Using the Dumbbells in exercises like the Bench and Strict press will even things out in the upper body, just like weighted step ups and pistols in the legs.

For the Workout…
Like many 21-15-9 rep schemes this workout is designed for you to go fast the whole time.

Work on breaking the Pull Ups into large chunks or even going Unbroken. Same thing for the Overhead Squats. On the Box Jumps, just keep a god pace the entire time and work on resting at the top instead of the bottom.

Whether you choose to do this workout Rx+, Rx, or Scaled you will find different challenges to each version. Remember, it's definitely okay to mix and match, especially if it help you work on something to get better.


You will notice the Dumbbell Overhead Squats in the Rx+ version. This is a relatively new exercise that will really test your strength and range of motion.
If you know you can go through the Overhead Squats unbroken at the Rx weight with Full Range Of Motion, the Rx+ Single Arm Dumbbell version is a good challenge.
We are going to be putting a 15 min Cap on this workout, although we expect all of you will finish well under that time.


Tuesday, December 26th 2017


Warm Up:
250 Easy Row
10 Active Spidermans
250 Medium Row
10 with 10 sec holds Active Samson
250 Faster Row
20 Air Squats facing the wall
Strength: Dumbbell Bench Press 5-5-5-5-5

WOD: For Time – 15 Min CAP
Rx+: For Time
21-15-9
Chest to Bar Pull Ups
Dumbbell Single Arm Overhead Squat 50/30
Box Jump 24/20


RX: For Time
21-15-9
Pull Ups
Regular Barbell Overhead Squats 95/65
Box Jumps 24/20


Scaled/Burn: For Time
21-15-9
Jumping Pull Ups/Ring Rows
Goblet Squats
Box Jumps
Weightlifting Club:

Hang Clean + Clean 8 x 1

Split Jerk 2-2-2-1-1-1-1-1

Front Squat 5-5-5-5-5

INFERNO:

10 Min EMOM
4 Clean & Jerks 145/105
Wednesday, December 27th, 2017
Warm Up:
In groups of 3 for big classes, 2 for smaller classes. One person starts on the row, the other the movement the third the hold, then rotate when the person is done with the rowing.
100 m Legs only rowing then inch worms then plank hold
100 m Core only rowing then push up to down dog then Bar Hang
100 m Arms only rowing then jumping squats then squat hold
Strength:
Back Squat (3 sec pause at bottom) 5-5-5-5-5
Use the heaviest weight you can for each set.
WOD:
"Tabata" - Row Calories and Push-ups : 5 x 20 secs / 10 secs
Tabata Row Calories
Rest 30 secs
Tabata Push-up
Rest 1 min then:
"Tabata" - Dumbbell Goblet Squats and Double Unders : 5 x 20 secs / 10 secs
Tabata Dumbbell Goblet Squat, 50/35 lbs
Rest 30 secs
Tabata Double Under
RX+ can be HSPU & Back Squat BW/ 3/4BW
Thursday, December 28th, 2017
Warm Up:
Quad Stretch
Knee to Chest
Straight Leg Kicks
Donkey Kicks
Side Lunge
Walking Samson
Walking Spidermans
Walkouts with a jump of feet to hands
3 Air Squats + Broad Jump
High Knees
Butt Kickers
Skip for Height
Skip for Distance
Strength: Every 1 min for 12 mins: Push Press
2 Push Press, pick load
WOD:
AMReps 15 mins: Wall Balls, Kettlebell Sumo Deadlift High-pulls and Toes-to-bars
As many reps as possible in 15 mins of:
1 Wall Ball, 20/14 lbs
1 Kettlebell Sumo Deadlift High-pull, 53/35 lbs
1 Toes-to-bar
RX +
Can be pull up to toes to bar complex
Friday, December 29th, 2017
Warm Up:
10 Kettle Bell Swings
10 Straight Legged Sit Ups
10 Push Ups
With an empty barbell:
5 Good Mornings
5 Back Squats
5 Straight Legged Deadlifts
5 Front Squats
2x for the whole thing including the kettle bell swings/sit ups and push ups
Strength: 1 rep max Deadlift
WOD: "Annie"
50-40-30-20-10
Double Unders
Sit Ups
**NO Rx+ just go faster!