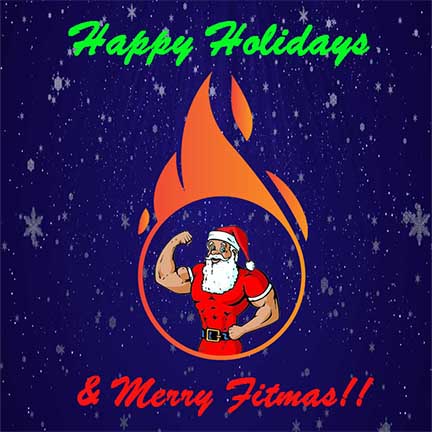 12 Days of Christmas THIS Saturday, December 23rd at WildFire CrossFit
Happy Holidays! This Saturday is a PERFECT time to join us for some Holiday cheer and do we have a Merry Fitmas for YOU!
We are going to be doing the 12 Days of Christmas in both the 9am CrossFit Class, and the 10am THROWDOWN Class!
There's no better way to celebrate the Holidays, by working together, and spreading cheer throughout the WOD.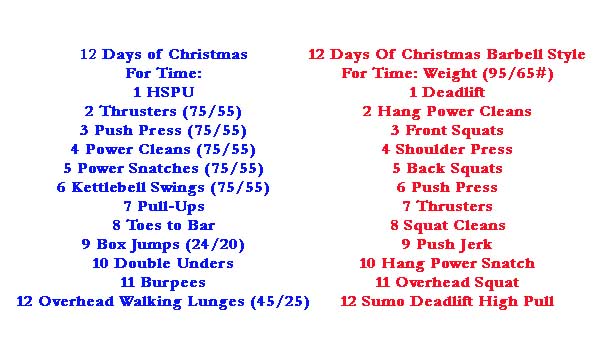 Here's how it works...
Just like the song, you will begin with the 1st Day. Then, Repeat the 1st day and do the 2nd day. Then Repeat the 1st & 2nd Day and do the 3rd day….You get the point.
We will do the 12 Days of Christmas workout, tomorrow, during Friends & Family at 9am and then the Barbell version during Throwdown at 10am.
If you have family in town, bring them to 9am! This is a great class for them to experience, and we will modify according to their skill level.
We do still have Endurance at 6:30am, CrossFit Kids at 8am and Olympic Lifting at 11:15am so join us for a FULL day of FUN, only at WildFire CrossFit!
We will be closed Sunday, December 24th and Monday December 25th so our Coaches and Members can spend time with Friends and Family for the Holidays.
We WILL be posting Family-Friendly, At-Home workouts on Sunday & Monday!