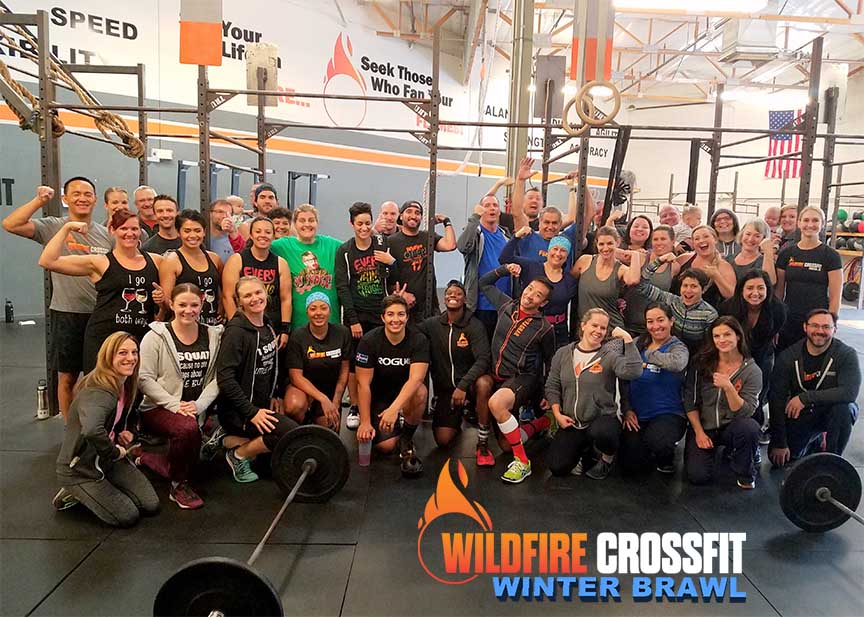 The Winter Brawl 2017
The Winter Brawl was this weekend at WildFire CrossFit.
Coaches Erin, Bri, Laura, & Kiara did s great job programming workouts that were challenging for all levels, and a lot of fun.

Teams of 2 males or two females in Rx and Scaled Divisions competed in 3 different workouts.


For the first workout, one partner ran 400 meters while the other rowed for calories. They kept switching between run and row for 10 minutes, accumulating calories, and making this an outstanding test of endurance. The Score was the total number of Calories Rowed in 10 minutes.
The weather was a perfect, with overcast skies and crisp, fall air, allowing the athletes to go fast enough to give them that nice "Fran Cough" feeling for the next hour.
Having your lungs burn while you are holding up an axel bar was the next challenge in the Floater workout. In this workout, athletes had to complete as many Overhead Squats as possible while the other held up an axel bar at the top of the Deadlift, or Hang Position. Overhead Squats could only be performed while the axel bar was off the ground.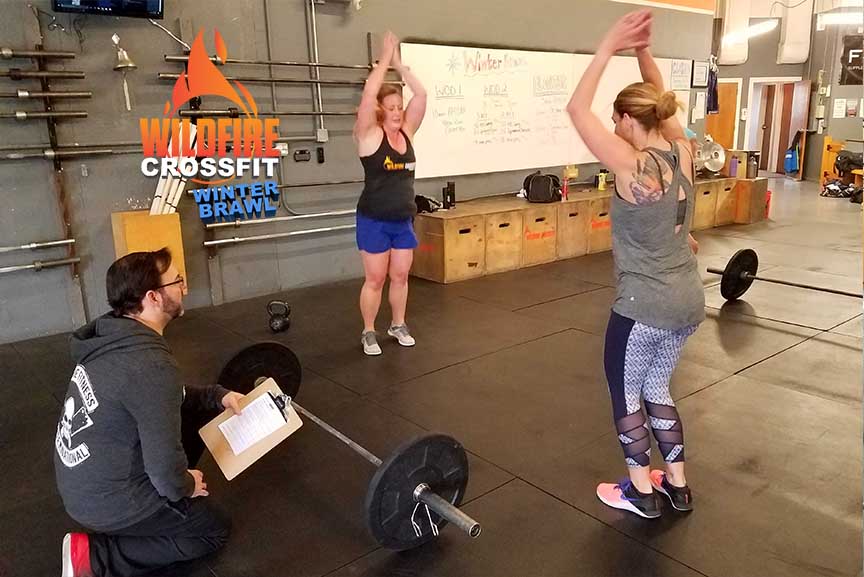 This was a nice little tax on the grip heading into the final workout which started with 50 Kettlebell Swings. Partners took turns chipping away at the reps. Once they were completed they moved on to 25 synchronized burpees. Competitor, Greg Giovannoli said "the plan goes out the window when Burpees are in the workout". Athletes had to touch the ground at the same time and then jump over the bar with two feet. Then, they went to work on 50 Push Press, again working back and forth until they were completed.
And that was just the first round. Rx Athletes had to complete 3 rounds and Scaled Athletes 2, with a 15 minutes time cap. This was the workout where Team Work really came into play. Maximizing the strengths of each athlete to work efficiently through the workout. Some chose to split the work fairly evenly, others did more of the exercise they were stronger in.
Every team kept working the entire time and pushed to the very end, and the crowd that came out to support them made it a lot of fun and gave them the energy they needed to go for it in every workout!
For many athletes, it was their first taste of competition. For others, it was a good challenge to prepare for upcoming comps such as the CrossFit Games Open.
We are extremely proud of every athlete who participated. I know I had a blast helping to judge and cheering athletes on all morning. It was awesome to see many of our Veteran athletes step up and lead by example. It was awesome to see so many of you who have been working so hard, crush it on Saturday!
Winter Brawl Winners:
Rx Men: 1. Zack & Ryan 2. Bao & Zee (Female with special Beast mode exception)
Rx Women: 1. Kiara & Nicole 2. Sopy & Janelle 3. Jocelyn & Andreina
Scale Men: 1. Henry & Taylor 2. Greg & Jeremy 3. Travis & Jason
Scale Women: 1. Shannon & Lauren 2. Pam & Kelly 3. Tiffany & Monica
Thanks to the Coaches for planning, organizing, and executing a GREAT event! Everyone had a great time!
Thanks to the everyone who came out to support these athletes! This is what Community is all about!
Monday workout
Today we are going to be doing a Hero WOD. Hero workouts are named after fallen members of the military and public service officials.
"Lumberjack 20" from CrossFit.com

On Nov. 5 at 1:34 p.m., a terrorist named Major Nidal Hasan attacked fellow soldiers and civilians at Fort Hood, Texas. When the shooting ended, he had killed 12 soldiers and one civilian and wounded 43 others.
Spc. Frederick Greene, 29, of Mountain City, Tennessee, Pfc. Aaron Thomas Nemelka, 19, of West Jordan, Utah, Pfc. Michael Pearson, 22, of Bolingbrook, Illinois, and Spc. Kham Xiong, 23, of St. Paul, Minnesota, along with eleven of the wounded were active CrossFitters in the 20th Engineer Battalion, home to Lumberjack CrossFit.
Get ready, get set, GO!
This, like most of the Hero workouts, is one where you just need to keep moving the whole time. When you come in from each run, be ready to attack the next exercise. Because there's only 20 reps of each exercise, you can challenge yourself with the weight and range of motion.
Whatever weight you choose you should be able to do sets of 5 during the workout.
Have fun today and honor those who sacrificed everything to protect our freedom and remember how fortunate we really are this Holiday Season.
Monday, December 18th 2017


Warm Up:200m Run
-Then-
30 sec of each of the following:
Deadlifts (pvc or barbell)
Kettle Bell Swings
Overhead Squats
Burpees
Jumping Pull ups
Box Jumps
DB Squat Cleans


WOD: "Lumberjack 20"
RX: For Time
20 Deadlifts, 275/185 lbs
Run, 400 m
20 Kettlebell Swings, 2/1.5 pood
Run, 400 m
20 Overhead Squats, 115/85 lbs
Run, 400 m
20 Burpees
Run, 400 m
20 Pull Up (Chest To Bar)s
Run, 400 m
20 Box Jumps, 24/20 in
Run, 400 m
20 Dumbbell Squat Cleans, 50/30 lbs
Run, 400 m
Scaled: For Time
DL: 225/155
KB: 53/35
OHS: 95/65
Pull Up: Chin over bar
DB SQCL: 35/20


Burn:
DL: Use KB
OHS: Use DB or KB for Goblet Squats.
Focus is torso upright during the whole squat.
Tuesday, December 19th, 2017
Warm Up: :20 Seconds
Jumping Jacks
Air Squats
Single Unders
Walk Outs
Single Unders
Active Spidermans
Double Under Practice
Sit-ups


Barbell Warmup
5 Good Mo0rnings
5 Back Squats
5 Elbow Rotations
5 Press and Stretch
5 Overhead Squats
5 Stiff-Legged Deadlifts
5 Front Squats
completed with empty barbell


WOD: Find your 1 rep Max Front Squat
Bonus WOD: 8 Min AMRAP
15 Abmat Sit-Ups
30 Double Unders
RX+ Weighted sit ups plate on chest and push overhead when you sit up
Double Unders Unbroken

Scaled: Single Unders or Lateral Jumps
Wednesday, December 20, 2017


Warm Up: Matt Chan Warm Up
Core Strength - :30 sec at Each for Quality x 2 Rounds (10 sec transition)
Ring Support Hold
Handstand Hold
L-sit
Pike Dip
Wall walk
Heel taps
Leg lower & lift flexed feet on the way down, point toes on the way up
Superman to hollow hold roll
Side Plank
V-Ups
Strength: Dumbbell Strict Press
3-3-3-3-3


WOD:
10-9-8-7-6-5-4-3-2-1 reps, for time of:
Weighted Lunge, 45/25 lbs (r+L =1)
Medicine Ball Push Up, 20/14 lbs (r+L=1)
Medicine Ball Russian Twist, 20/14 lbs (r+L =1)
RX + is OH lunges
Bonus: 400m run for time
Thursday, December 21, 2017
Warm Up:
Row 500m

Barbell Warm Up w/ empty barbell or pvc:
3 Deadlifts
3 Clean Pulls
3 Clean High Pulls
3 Cleans
3 Front Squats
3 Push Press
3 Push Jerks
3 Split Jerks


Row 250m
Repeat Barbell Warm Up w/ empty barbell


WOD:
Power Clean & Jerk 2-2-2-2-2
Use the heaviest weight you can for each set.
Rest as needed between sets.
Allow 25-30 minutes for this
Bonus WOD: 5 min AMRAP
3 Power Clean & Jerks RX+ 145/105 RX 135/95 Scaled 115/75 (goal is touch & go)
100m Sprint
Friday, December 22, 2017
Warm Up: Line Drills
Quad Stretch (Step and pull ankle to butt)
Knee to Chest (step and hug knee to chest)
Deep Lunge w/ twist
Straight leg kicks
Burpee Broad Jumps
Walking Spiderman


2 rounds of:
5 Scap Pull-ups
5 Kipping Swings
5 Strict or Kipping Pull Ups
5 Ring Rows
5 Ring Dips
5 tri-pod push ups
30 sec Handstand Hold


WOD:
5 Chest-to-bar Pull-ups
7 Kipping Handstand Push Ups
21 Burpees
Rest 4 mins between each cycle.
For each cycle restart the AMRAP
* Complete a 400min run in the 4 min rest


RX +: 2 Cycles of 10 Min AMRAP
5 Bar Muscle-ups
7 Strict Handstand Push-ups
21 Burpee Jump And Touches
Rest 4 mins between each cycle.
For each cycle restart the AMRAP.
* Complete a 400min run in the 4 min rest
Scaled: 2 Cycles of 10 Min AMRAP
5 Pull ups
7 Strict DB Press 50/30
21 Burpees
Rest 4 mins between each cycle.
For each cycle restart the AMRAP.
* Complete a 400min run in the 4 min rest