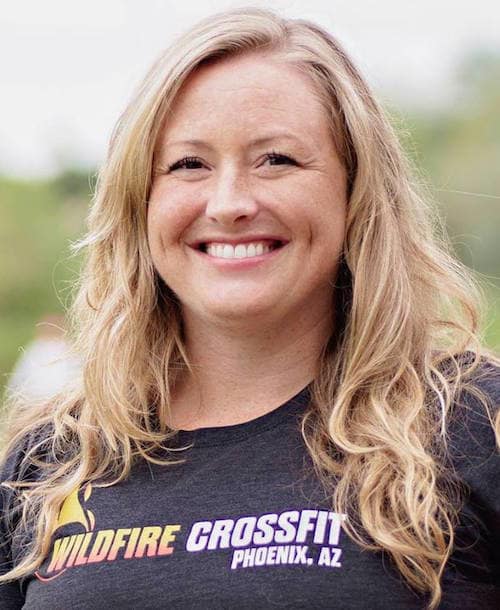 Tiffany Divelbiss
WildFire Founder
Certified Nutrition Consultant 2006
Level 1 CrossFit Certified Trainer April 2009
Level 2 CrossFit Certified Trainer November 2014
CrossFit Nutrition Certified June 2009
CrossFit Joint Mobility & Recovery Certified August 2009
CrossFit Kids Certified May 2010
CrossFit Olympic Lifting Certified December 2010
CrossFit Fury October 2009
Friday Night Lights CrossFit Open Qualifier Competition 2011 2nd Place
CrossFit Regional Competition 2011 Affiliate Team
"Wow! I thought I was in shape." Those were my first words after I caught my breath and got up off the floor after my first CrossFit workout. I had been working out here and there and not consistently mainly because I would just get bored easily at the gym. So after my first CrossFit workout or WOD (workout of the day…yes we have our own lingo too), I was sore and I came back to see what the next workout was like… It was completely different and I still got my butt kicked! Even better was the fact that I was alongside a group of people who were going through every minute of class with me cheering me on and pushing me to give that little extra. We had a shared experience of an awesomely challenging, fun workout and… I was hooked!
That was 4 ½ years ago and I still get my butt kicked. The difference is that now I can DO more… I can lift more & move faster…and I have a community of fellow CrossFitters that are now family. I have embraced a workout and a LIFESTYLE. I know now that being "in shape" is not just what you can do in the gym, it's how what you do in the gym makes you better at life. It is what you do in the gym, what you do out of the gym, what you choose to fuel your body through nutrition, it's the people you surround yourself with that either move you towards optimal health or away from it.
Now everyday at Wildfire CrossFit I have the privilege of helping others find their strength both inside and out through teaching results-oriented functional fitness and helping to create community of people, who want to get healthy, move better and have fun doing it. The anticipation of the unknown workout of the day and the challenge it brings is half the fun. The little things like being able to "clean & jerk" my suitcase into the overhead bin when I travel or speaking in terms of "WODing" and "what's your Fran time" are just great bonuses! The Wildfire CrossFit LIFESTYLE is knowing that every day we come to class we are stronger, more confident, healthier and we are part of a family that will help us all to be our best.