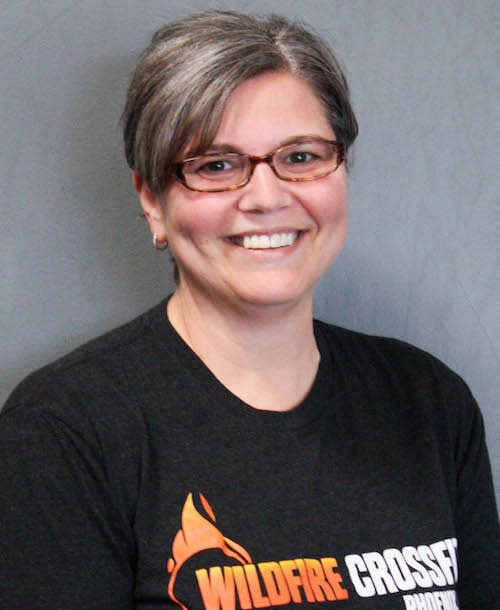 Sheri Campisi
Early December 2013 my best friend got a Goupon a Crossfit box in Parsippany, NJ "come with me, I want to try it out and I don't want to go by myself" she said. "Okay, sure, why not?", I never even heard of Crossfit. My first class was, in a word…hell. Forget the two days "grace period"…I couldn't walk when I woke up the next day. My friend…well…she had enough…but…I WAS HOOKED.
Fast forward to the end of May 2014.I was moving to AZ. When I came out looking for a place to live, I also looked for a box. This was my #2 priority…FIND A BOX (having a roof over my head barely took first place). I was lucky, my box in NJ was, above all, a super supportive community. I needed that same feel here in Phoenix and was willing and prepared to check out as many boxes as it took until I found the right one. First one on the list….Wildfire Crossfit. I stopped in between house hunting and talked with Skip. He said I should come by when I moved and check it out…June 2nd was my first class at Wildfire. I never felt the need to go anywhere else.
Rewind to junior high and high school…my gymnastics days…I was a student coach. It started out to help out my parents…getting my lessons in exchange for student coaching. But, turns out I really enjoyed it. And even when I taking lessons, I continued on as coach…the best after school job ever! Watching the gymnasts grow in their ability, seeing their faces when the conquered a skill, knowing I played a little part in helping them achieve their goals was, to me, more exciting than when I was accomplishing my goals. This was my purpose…to motivate and provide the building blocks for others to achieve their goals. This is what made me happy!
Fast forward to Crossfit…I again found something that I was passionate about…combining my love of Crossfit with my love of teaching/coaching. Where do I sign up? I approached Tiffany early in 2015 and set myself on the path to becoming a Crossfit Coach and got my Level 1 Certificate in August of 2015!