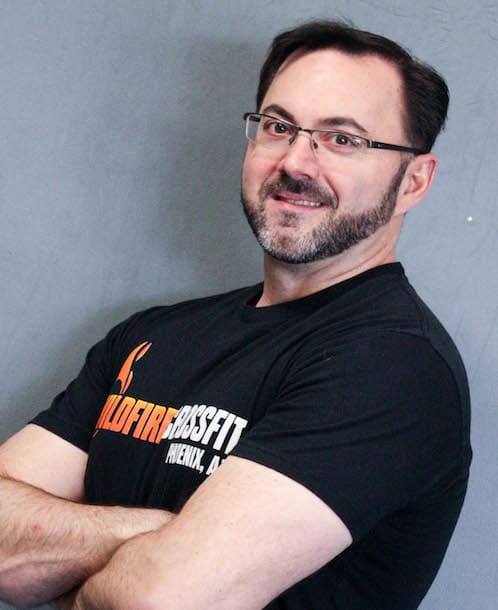 Chris Stasik
CrossFit Level 1 Certificate Holder
2014 & 2015 CrossFit Games Open Athlete
U the Leader Graduate
U the Communicator Graduate
I first learned about CrossFit in 2009 when a good friend returned from his deployment in Afghanistan. He told me about the CrossFit workouts he had been doing and how that translated into improving his overall fitness and functionality. I was very interested, but also quite intimidated. It wasn't until quite a few years later (January 4th, 2013) I gathered the courage to walk into WildFire CrossFit. I didn't know it yet, but my life was about to change forever!
Saturday, January 5th, 2013 was my first CrossFit class at WildFire CrossFit. I thought I was in decent shape at that point in my life, but I was wrong! It was difficult, my body was pushed to the limit, and I loved every minute! I was 100% hooked. I came back for more the next Monday and have been doing CrossFit consistently ever since.
From day one, the community at WildFire CrossFit has been welcoming and encouraging. Wildfire is my home away from home and my second family. CrossFit has continually challenged me to step out of my comfort zone, and I am so thankful for it. I am proud to have participated in a number of local events and competitions together with other Wildfire athletes and I know more are on the horizon. To expand my own knowledge base I earned my Level 1 certificate. I read every article and watched every video I could find about CrossFit movements. I was a sponge and soaked it all in. CrossFit was rapidly becoming an obsession. I took on an assistant coach role and began working with other athletes during class. This not only improved my own training, but I began to appreciate how great it feels to help other athletes succeed. Now I am fortunate enough to coach at WildFire where I am grateful for the opportunity to share my passion and learn from my fellow coaches and athletes every day. 3-2-1 GO!