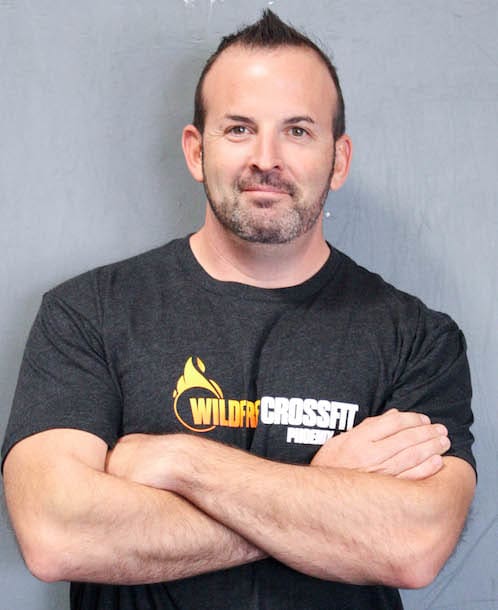 Chris Kern
CrossFit Level 1 Trainer
CrossFit Endurance Trainer
April 13, 2012 was the day that changed my definition of what it meant to "be in shape." That was the day that I discovered CrossFit for the first time, when I walked in to my local CrossFit box in South Orange, NJ.
Before that memorable day, I had recently lost about 20 lbs through diet and mostly running and thought I was in pretty good shape. I was running 20 – 30 miles per week and competing in 5Ks, 10Ks, half marathons a couple times a month. I felt pretty good considering I was 38 and running as fast I did when I was in high school and college. I still wanted to lose another 15 lbs and I needed something, or someone, to really kick my butt and take my fitness up a notch or two. I had heard about CrossFit online and saw a little bit of it on ESPN, so I found the closest box to the house and gave them a call.
I was really nervous walking in that first day! I wasn't sure exactly what I was going to do, I didn't want to look like I didn't know what I was doing, and wasn't sure if I would be able to survive. Then I met my first two great CrossFit coaches, Coach Malcolm and Coach Kara. They walked me through all of the essential movements and lifts, discussed the importance of proper form, and thus the use of "scaling" a workout. Not only did I find the "kick in the butt" that I was looking for, but I thrived on the competitive nature of CrossFit with every workout "scored." The biggest surprise to me was the community aspect at the gym. It wasn't just the coaches that were cheering me on or pushing me to do more, it was all of the other athletes too. After the first few workouts, I was HOOKED!
Flash forward 6 months, the family and I were relocating back to Phoenix. My biggest concern with the move was, would I find the same type of community and CrossFit experience as I had in New Jersey. I went online found the closest CrossFit box to my home, WildFire CrossFit, and gave them a call. Ironically, my first week back to Phoenix was Wildfire's first week open!
The first time I walked into Wildfire I knew I had found a new CrossFit home. Skip & Tiff were all so welcoming, supportive, and fantastic coaches. Plus, the other athletes were so friendly and supportive of each other, exactly what I experienced back in Jersey.
Through the support and inspiration of my family, my coaches, fellow athletes (both in NJ and AZ), I quickly realized that I wanted to become more involved in this crazy CrossFit world. I wanted to become a coach too! Now, not only do I have the pleasure to workout side-by-side amazing athletes everyday, I also have the honor to coach them on occasion as well. As much as I enjoy getting faster at "Jackie" or "Fran," or hitting a new PR in my Snatch or Deadlift, I get even more enjoyment when I can coach an athlete that hits their new PR in the Front Squat, or learn how to do their first kipping pull-up, or handstand push-up.
Throughout this evolution of my CrossFit world, my thirst for knowledge grows more and more each day. So I am constantly striving to learn more to be a better coach, as well as a better athlete. I am committed to making the WildFire CrossFit Community the best it can be everyday, and look forward to continuing this journey as part of an amazing team.